"Total Recall" images put spotlight on Jessica Biel and Rekall's memory machine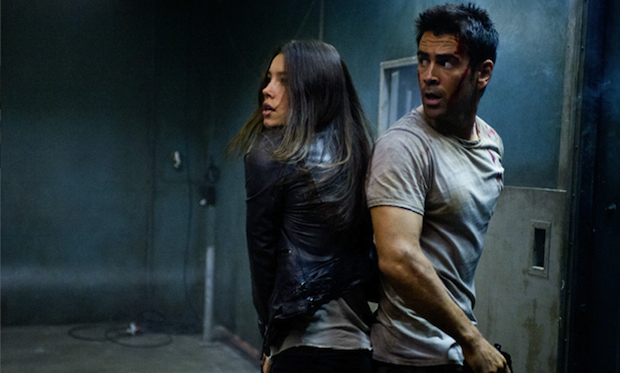 Posted by Terri Schwartz on
The premiere of "Total Recall" may be three months away, but that won't stop us from getting excited over the latest batch of images Sony Pictures has released.
The official site for the upcoming Len Wiseman movie now features about a half-dozen new stills. Some of them tease scenes we've already seen in the trailer, but many of them include an actress we haven't seen much of in the movie's promotion: Jessica Biel.
Biel's character is described as a rebel fighter who teams up with leading man Colin Farrell later on in the story, so she'll likely be playing a role similar to the one Rachel Ticotin played in the 1990 film. She's been noticeably absent in the previously released trailers and images for the flick, unlike Kate Beckinsale, who plays Farrell's wife.
Either way, these pictures tease a "Total Recall" that will be action-packed and gritty. They don't give away much in terms of plot, but they do give us a good sense of the look of the movie, and so far we like what we see.
Based on Philip K. Dick's short story We Can Remember It For You Wholesale, "Total Recall" follows a factory worker named Douglas Quaid (Farrell) who becomes intrigued by a new company named Rekall. It promises implants of any dream that a person desires, as long as they can pay the price. Even though he is happily married, Quaid requests to have the dreams of a secret agent implanted in his own mind. But something goes horrible awry, and Quaid finds himself on the run teamed with a rebel fighter (Biel) and head of the underground movement (Bill Nighy) as they try to stop the evil dictator Chancellor Cohaagen (Bryan Cranston).
"Total Recall" hits theaters August 3.
What do you think of these new pictures? Tell us in the comments section below or on Facebook and Twitter.