Tom Hardy describes showdown with Gary Oldman in "The Dark Knight Rises"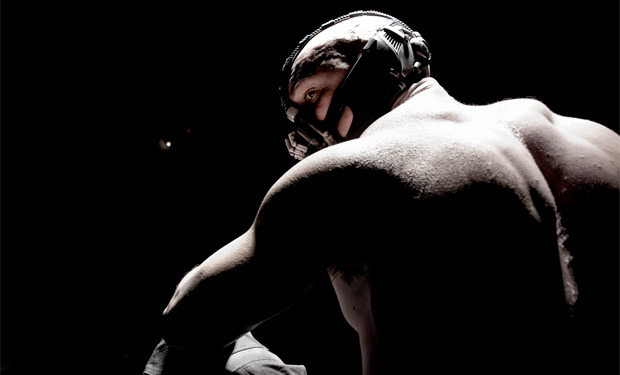 Posted by Terri Schwartz on
There wasn't too much to be gleaned from the first teaser trailer for "The Dark Knight Rises," but we did see that Gary Oldman's Commissioner Gordon was beaten up pretty badly and staying in the hospital. The person who did that to him has never been stated, but it seems like we might now have our confirmation that it was Bane.
In an interview with Total Film at the Cannes Film Festival, Tom Hardy teased that he and Oldman have a bit of a confrontation in "The Dark Knight Rises." The two also worked together on "Tinker Tailor Soldier Spy," and Hardy said he liked the change in dynamic.
"I spent my entire experience with Gary [on Tinker Tailor Soldier Spy] staring at him and not returning any lines because I think he's God," Hardy said. "The second time [on The Dark Knight Rises] I was playing God, so I ignored him. Kicked him a bit, that kind of thing. Gary Oldman is one of my heroes, I did nothing but glean from him."
This is the first time we've heard Bane described as "God," and it starts to put the character into perspective. We all know that Bane was the man to break the Bat in the "Batman" comics, but could it be that he has an even greater presence in Christopher Nolan's universe? It would be interesting to view his character as the metaphorical voice of God telling Bruce Wayne that it's time to stop being Batman.
We're likely reading too much into Hardy's statements there, but now he has us really looking forward to see his dynamic with Oldman on the big screen for the second time in as many years. Directed by Christopher Nolan, "The Dark Knight Rises" also stars Christian Bale, Michael Caine, Anne Hathaway, Marion Cotillard, Joseph Gordon-Levitt and Morgan Freeman. It's coming to theaters and IMAX on July 20.
What did you get out of Hardy's statement? Tell us in the comments section below or on Facebook and Twitter.