"Thor 2" will feature a "major new antagonist"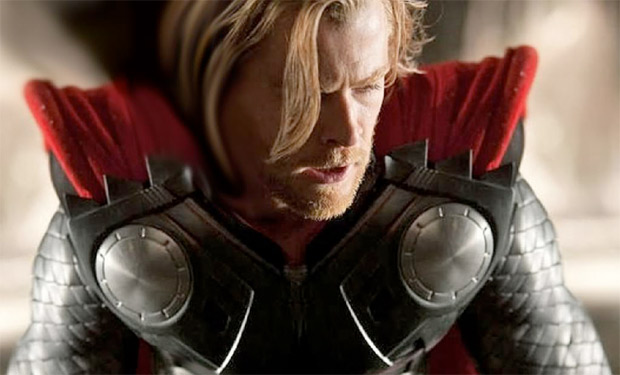 Posted by Terri Schwartz on
Hot off the news that Mads Mikkelsen is in discussions for "Thor 2," Marvel Studios president Kevin Feige has come out and confirmed that the upcoming superhero flick will not have Loki reprise his role as main villain. While he didn't go as far as to specify the character Mikkelsen is in the running for, Feige did tease a decidedly different look for Thor's mythological kingdom than the one we saw in "Thor."
"We're going to see the other side of Asgard. It's not all polished and golden in this film," he told Empire (via /Film). "And the events of 'Avengers' will have affected Thor for sure. His relationship with Loki will continue to evolve, and the biggest part is Natalie and Thor returning with Jane Foster."
Many had hoped assumed that Thanos would be the big bad this time around, considering the dramatic way he was teased at the end of "The Avengers." But Feige continued to say that we won't be seeing a face-off with him until farther down the line.
"No, future, future," he said when asked about Thanos. "But there will be a major new villain. A major, major new antagonist."
The main question is who will that be. Beyond Loki, Thor doesn't have many major enemies specific to his universe. Only time and "Iron Man 3" will tell how much crossover will continue to happen between the Marvel superhero movies now that "The Avengers" has happened, so there's potentially the chance (though not likely) that "Thor 2's" villain could come from a different character's story. It is interesting to hear Feige describe Thor's relationship with Loki as continuing to "evolve," because maybe we'll see the trickster god get redeemed after all.
Directed by "Game of Thrones" helmer Alan Taylor, "Thor 2" stars Chris Hemsworth, Tom Hiddleston, Anthony Hopkins, Natalie Portman and Idris Elba. It is slated to hit theaters on November 15, 2013.
Who do you think will be the villain in "Thor 2"? Tell us in the comments section below or on Facebook and Twitter.