HCFF: Updates on "The World's End," "Star Trek 2," "Ant-Man" and "Man of Steel"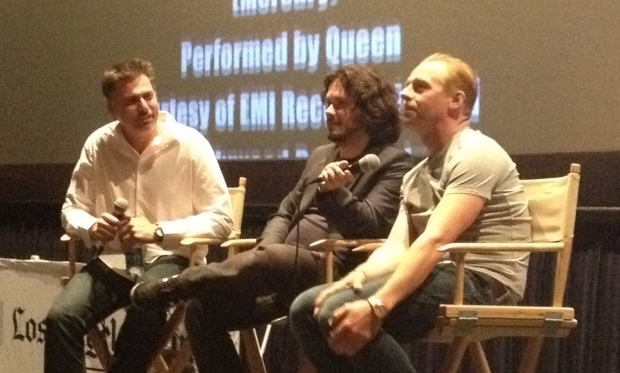 Posted by Terri Schwartz on
"Star Trek 2"
We still have plenty of movies to be excited for in 2012 — hello, "Prometheus," "The Dark Knight Rises" and "The Hobbit" — but we can't help but look forward to the blockbuster film slate in 2013. That's why the Q&A following the screening of "Shaun of the Dead" kept returning to "Star Trek 2."
"We wrapped last week, and it's going to be awesome," Pegg promised.
Not satisfied with that answer, one fan asked Pegg to tell the audience everything there is to know about the movie. Pegg jokingly complied, teasing, "It all starts on the Enterprise. Kirk turns to Scotty and goes, 'You want it?'"
In all seriousness, Pegg acknowledged that he unfortunately couldn't tell us much about the movie. But his ambiguous answer was still enough to get us excited for the project.
"I can honestly say it was a fantastic experience, we had the best time, I know this bullshit always comes out at press time," he said. "With the [first] film having established the characters as they are now, we can really hit the ground running with this one. It's fast, and it really doesn't fucking stop until the end. I'm excited. That's what I'll say."
"Ant-Man"
Though we were at the festival to honor Wright's work on "Shaun of the Dead," talk inevitably turned to his potential upcoming Marvel project, "Ant-Man." Wright didn't give away much about the status of the film — "I have to give a spectacularly vague non-answer," he hedged — but he did talk about how it felt talking about it following "The Avengers'" record-breaking opening weekend.
"It's kind of nerve-wracking. I saw Kevin Feige afterwards and I said, 'How does Shane Black feel?' 'Avengers' just had the biggest opening weekend of all time," Wright said. "I thought that movie was great, and it was a credit to Kevin Feige for seeing that six film arc and kind of courage to actually commit to that seven years ago. It's kind of amazing."
"Man of Steel"
Also not willing to give away much about his upcoming movie was Zack Snyder, who was hilariously harassed all night by "The Walking Dead" creator Robert Kirkman to try to give away some tidbits of information about "Man of Steel." Unfortunately Kirkman's appeals didn't work, but Snyder did give a very vague update on the project.
"It's going really good, I'm cutting right now," Snyder said. "I'm really excited about it. I think it's fun to work on. It's gigantic and crazy stuff. I can't believe I just said that. Spoiler alert, right? Gigantic and crazy."
Are you looking forward to these movies as much as we are? Tell us in the comments section below or on Facebook and Twitter.