HCFF: Updates on "The World's End," "Star Trek 2," "Ant-Man" and "Man of Steel"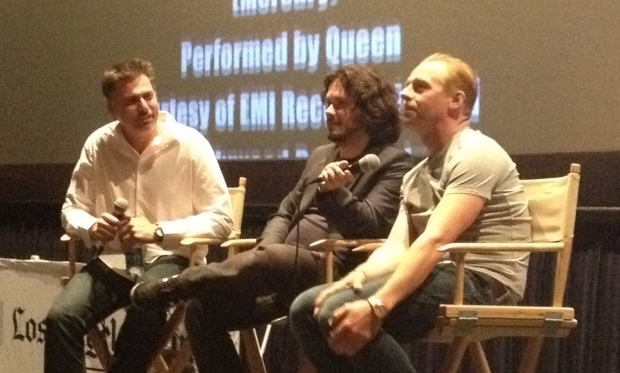 Posted by Terri Schwartz on
Over the weekend, IFC had the pleasure of covering the Los Angeles Times Hero Complex Film Festival at LA Live. It was a long three days of screenings that included Q&A sessions with fan favorite celebrities like Malcom McDowell, Edgar Wright, Robert Kirkman and Nathan Fillion, as well as surprise guests like Simon Pegg and Rick Baker.
The first day of the festival included screenings of Zack Snyder's "Dawn of the Dead" remake and Wright and Pegg's "Shaun of the Dead." Though they spent plenty of time talking about the films they were there to honor, Snyder, Wright and Pegg also teased some of their upcoming projects. Here are the latest updates on "The World's End," "Man of Steel," "Star Trek 2" and "Ant-Man."
"The World's End"
Fans might be hoping that Edgar Wright will start work on "Ant-Man" soon, especially with the incredible wave that "The Avengers" is riding right now, but when Wright was speaking before the "Shaun of the Dead" screening Friday night, he made it seem like that film is not his top priority.
"Me and Simon [Pegg] are very much hoping to do 'The World's End' soon. We'll see," he said.
That's good news for fans of Wright's Blood and Ice Cream trilogy, at least. Since Wright has previously said he expected "Ant-Man" to shoot within the year, that means he and Pegg are likely going to start filming "The World's End" within the next few months.
"It was a joy to write this one, and I think it's because we've done it a few times and kind of know what to expect," Pegg said during a surprise appearance after the screening. "We're a little mature and I used to really love coming to work and it was a great experience and I cannot wait to start making the film."
When someone asked Pegg whether he'd want to work with Wright again after they wrap the final film in their trilogy, he answered simply, "I want to work with Ed until I die." But he also elaborated on how these three seemingly unrelated movies will work as a threesome.
"The thing about 'Shaun,' 'Hot Fuzz' and 'World's End' is that, I've said this on Twitter recently, but it's very easy to sell something just because it's three. I think these films, when you see them all together, will feel like a trilogy," he said. "And the next thing we do might just be a one-off, who knows. But these three films, when you finally see 'World's End,' they will sit together as a threesome."
Wright added, "We never ever really wanted to do a sequel to 'Shaun of the Dead' or 'Hot Fuzz,' but we did want to do like a thematic trilogy. … The idea is that the third one is no returning characters but it is something that makes the other two films part of a trilogy."
Is the fact that they're called the Blood and Ice Cream trilogy news to you? Well, Wright also took the time to explain how a joke during the interview gave them that name. It all started with an English ice cream treat called a Cornetto that has a small part in both movies.
"It's funny, there's this thing called Cornetto that's a sort of British ice cream. This trilogy that has formed, I said in a joke in an interview, I can't even remember who the interview was for, since we had Cornettos in both movies and they said, Are you going to do a trilogy, and I said yeah, it's going to be like Krzysztof Kieslowski's 'The Three Colors Trilogy,' 'The Three-Flavored Cornetto,' and it's a joke that stuck," Wright explained.
Originally, there weren't even supposed to be Cornettos in "Hot Fuzz," but after the studio gave away free ice creams at the "Shaun of the Dead" premiere, Wright and Pegg figured they'd write in some more of the tasty treats in the hopes of getting more Cornettos at the "Hot Fuzz" premiere. They didn't.
"Basically third time lucky. That's the whole idea," Wright said with a laugh. He added, "[A Cornetto is] the weirdest thing you would want to eat at that time in the morning. The fact that he's sort of not even awake … but also the reason was that when I was in college I got very, very drunk one night and I had a Cornetto in the morning and I felt a lot better, so it became my hangover cure. The strawberry ones particular."