The Top 10 Kidnapping Scenes in Movies (with video)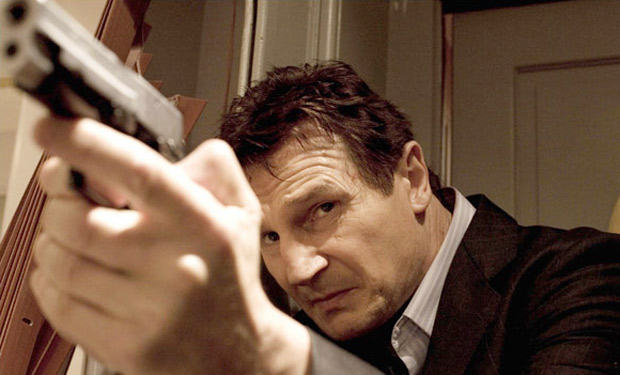 Posted by Bryan Enk on
You'd think movie kidnappers would've caught on by now that movie kidnappings never, ever go according to plan; in fact, if you want to experience complete and total disaster, then by all means go kidnap somebody. Here are some kidnapping scenes that start a domino effect of cinematic chaos.
---
"Bananas" (1971)
One of Woody Allen's silliest — and laugh-out-loud funniest — comedies, "Bananas" stars the writer-director himself as Fielding Mellish (one of the most character names of all time), a neurotic New Yorker (natch) whose attempts to impress a cute activist (Louise Lasser) end up leading him to the fictional South American country of San Marcos, where he gets involved with a group of revolutionaries. There's lots of crazy (and oh so '70s) goings-on in "Bananas," including a truly bizarre courtroom sequence featuring a middle-aged African American woman who believes she's J. Edgar Hoover, but one of the best sight gags is this bit of physical comedy in which the chaotic struggle during an attempted person-snatching causes Woody to inject knock-out drugs to everyone involved — including his co-conspirators. It's the kind of situation that Lt. Frank Drebin of Police Squad! and The Naked Gun might've found himself in, once upon a time.
---
"Fargo" (1996)
The title of the Coen Brothers' bittersweet love letter to their home state of Minnesota actually refers to a town in the neighboring state of North Dakota, where struggling car salesman Jerry Lundegaard (William H. Macy) meets with bumbling criminals Carl Showalter (Steve Buscemi) and Gaear Grimsrud (Peter Stormare) to discuss the kidnapping of Jerry's wife — a scheme bound for disaster as it's wrought with contradictions and complications from the start as the kidnappers insist their meeting was supposed to start an hour before Jerry's arrival. The fact that these two clowns actually succeed in snatching poor Mrs. Lundegaard (in broad daylight and from her own house, in fact) is pretty remarkable, 'cause that's pretty much the only thing that ends up being checked off from the list of How It's All Supposed to Go.
---
"Labyrinth" (1986)
Jim Henson and Frank Oz's follow-up to the still-astonishing "The Dark Crystal" hasn't aged nearly as well as its now-classic predecessor, but it's still quite the enjoyable nostalgia piece; you just can't help but crack a whimsical smile whenever you think of the first time you noticed that rather prominent bulge coming from the nether regions of David Bowie's Goblin King costume. Surely, "Labyrinth" still makes for a fine fairy tale, with young Sarah (Jennifer Connelly, mega-hot even before she was old enough for that to be mentioned) wishing that the Goblins would come and take her meddlesome baby brother away; the scene where she says just the right words for this to actually happen makes for one of the scariest moments in the film, thanks to a rather robust thunderstorm and the excitable Greek Chorus commentary coming from the Goblins themselves as they huddle together in some sort of Hensonian limbo state. Shudder!
---
"Man on Fire" (2004)
The second of what would end up being many collaborations between Denzel Washington and director Tony Scott (and the first since 1995's "Crimson Tide"), "Man on Fire" features Denzel as a former CIA operative saved from alcoholic despair and self-loathing by becoming the bodyguard of a young American girl (Dakota Fanning) in Mexico City; when the little tyke is kidnapped, he embarks on the kind of "roaring rampage of revenge" that would make even Liam Neeson blush as he stabs, shoots and blows up everyone even vaguely involved with the snatching of his ward. The scene where Dakota is kidnapped makes for one of the most harrowing moments in the film, cranked up to panic mode all the more by the hyper-aggressive visual style in which Tony Scott loves to indulge.
---
"The Nightmare Before Christmas" (1993)
Tim Burton's much-celebrated 1993 stop-motion double-holiday classic might now look a little, well, quaint compared to some of the more contemporary films that feature the animation technique (including Burton's own "Corpse Bride"), but "A Nightmare Before Christmas" is still a triumph of character and storytelling; indeed, Jack Skellington might now very well be as popular a Christmas figure as ol' Saint Nick himself. Speaking of Saint Nick (or "Sandy Claws," as he's mistakably referred to for the first two acts of this dark fable), he's been targeted for kidnapping by Jack as he attempts to merge both Halloween and Christmas, a task which the Pumpkin King has entrusted to Halloween Town's trio of troublemakers, Lock, Shock and Barrel. This scene features the ghoulish whippersnappers psyching themselves up to snatch the jolly old elf, complete with rather macabre lyrics that help to paint a rather grim Christmas portrait.