"Gangster Squad" trailer shows Josh Brolin, Sean Penn and Ryan Gosling at their best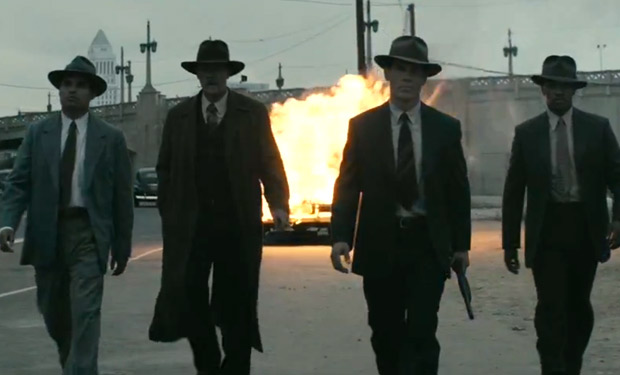 Posted by Terri Schwartz on
The Baby Goose is at it again, but this time he's got some back up.
The trailer for "Gangster Squad" has finally arrived, and consider us enamored. The Warner Bros film reprises some of our favorite movie pairings: Emma Stone and Ryan Gosling, Emma Stone and director Ruben Fleischer and Sean Penn versus the world.
Honestly, this movie seems to have everything we love about all the actors involved. Emma Stone being sexy. Nick Nolte being a badass. Josh Brolin shooting guns. Ryan Gosling shooting guns. Sean Penn shooting guns. And with all of this set to the backdrop of a crime-ridden Los Angeles in the 1940s and 1950s, what more could we ask for in a film?
There are definitely some awesome visual cues present here. That scene of the gangsters shooting through a movie theater screen towards the end takes us right back to the badass ending of "Inglorious Basterds." Gosling staring down the barrel of a gun immediately brings "Drive" to mind. We already know that Fleischer, who also helmed "Zombieland" and "30 Minutes or Less," has a soft spot for other films, so it's seems safe to assume he honored some of his favorite gangster and action movies with this flick.
"Gangster Squad" is based on Paul Lieberman's seven-part Los Angeles Times series "Tales from the Gangster Squad" (you can read it here). The movie also stars Anthony Mackie, Giovanni Ribisi and Robert Patrick. It was supposed to come out on October, but is now listed as "coming soon." Hopefully we'll have a new release date soon.
What did you think of this new trailer? Tell us in the comments section below or on Facebook and Twitter.