"The Dark Knight Rises" Bat-Pod and Tumbler heading to a city near you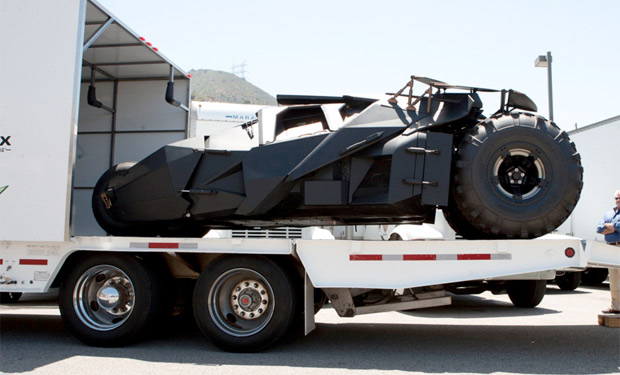 Posted by Terri Schwartz on
"The Dark Knight Rises" Tumbler and Bat-Pod will soon be coming to a city near you.
A new website called Tumbler Tour offers more details about the cross country event that starts in Arkansas on May 12 and ends in Los Angeles on July 7. So far 26 stops have been announced in 19 states, D.C. and Canada, but there are more locations to be added in the coming weeks. Stay tuned into Facebook and Twitter for updates, and check out the full list of stops so far at the bottom of this article.
In other "The Dark Knight Rises" news, Total Film has revealed a new high-res image of Bane and a snippet of their interview with Tom Hardy. When asked how it was working with the mask, he said it wasn't bad… if you like drooling all over yourself.
"It's not as bad as you might think. You just put it on. Work out where your drool goes. That's it," he said. "Mask work is good fun. This one wasn't painful; there was the stunt mask and there was the up-close on for the sexy glam shots."
SuperHeroHype has some snippets from the Total Film story as well, including producer Emma Thomas talking about Bane's brutality in "The Dark Knight Rises" compared to the Joker's mind games, and Christian Bale explaining how Batman's life is surrounded by pain. But his most foreboding clip came when he said that this movie is going to be action-packed.
"Chris is very good at recognising the kind of movie that we're making, that we're not making a little character piece," Bale said. "There's no reason why you can't have a substantial amount of character in it, but we're not going to go so far that people say, 'This is no longer the excitement I'm looking for.' It's the end of an era. For me, personally, and for Batman."
Directed by Christopher Nolan, "The Dark Knight Rises" stars Christian Bale, Michael Caine, Anne Hathaway, Tom Hardy, Gary Oldman, Marion Cotillard, Joseph Gordon-Levitt and Morgan Freeman. It's coming to theaters and IMAX on July 20.
Here's the tentative schedule for the Tumbler Tour:
5/12 Bentonville, AR
5/15 Tulsa, OK
5/19 Overland Park, KS
5/21 Kansas City, MO
5/25 Chicago, IL
5/27 Washington, DC
5/28 Baltimore, MD
5/30 Philadelphia, PA
6/1 Buffalo, NY
6/7 Toronto Canada
6/10 Montreal Canada
6/12 Purchase, NY
6/13 Columbus, OH
6/15 Lansing, MI
6/16 Detroit, MI
6/17 Brooklyn, MI
6/19 Indianapolis, IN
6/21 Nashville, TN
6/22 Knoxville, TN
6/23 Atlanta, GA
6/25 Dallas, TX
6/27 San Antonio, TX
6/29 El Paso, TX
7/1 Albuquerque, NM
7/2 Phoenix, AZ
7/7 Los Angeles, CA
Will you check out the Tumbler Tour if it comes to a city near you? Tell us in the comments section below or on Facebook and Twitter!