"The Dark Knight Rises" debuts more new character posters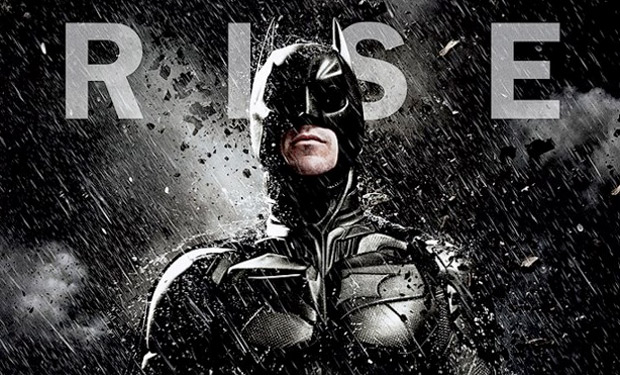 Posted by Rick Marshall on
The promotional push for "The Dark Knight Rises" has shifted into a higher gear the last few days, with a fiery new poster arriving online yesterday and a flood of new images following in its wake today.
All told, six posters popped up on the 'net today, split between a trio on the film's official Facebook page and another three on Yahoo Movies. Each of the posters features a new shot of Batman (Christian Bale), Catwoman (Anne Hathaway), or Bane (Tom Hardy), and sports the recurring, cryptic tagline "The Legend Ends." The three posters at Yahoo also feature the somewhat contradictory, one-word theme "RISE," but hey — who are we to criticize? If Christopher Nolan wants to Batman to rise while the legend ends, that's his prerogative.
The posters all feature a similar theme as far as background setting, too. Each trio features the characters' image against a backdrop of falling debris — or possibly ashes — which seems to go along with the frequently reiterated hint that Gotham will be hit hard in Nolan's final Batman film.
Of course, the dark imagery of "The Dark Knight Rises" seems even more so when compared to all of the bright imagery used to promote and subsequently report on the tremendous success of "The Avengers" — the film that recently broke many of the box-office records set by Nolan's previous Batman film, "The Dark Knight." This summer is shaping up to be a true clash of the titans in theaters, but let's face it: it's never a bad thing to have too many good movies.
"The Dark Knight Rises" hits theaters July 20, and stars Christian Bale, Michael Caine, Anne Hathaway, Tom Hardy, Gary Oldman, Marion Cotillard, Joseph Gordon-Levitt, and Morgan Freeman.
You can check out out all of the new posters below:
What do you think of the new posters? Any favorites? Chime in below or on Facebook or Twitter.