"The Campaign" trailer has Will Ferrell and Zach Galifianakis going head to head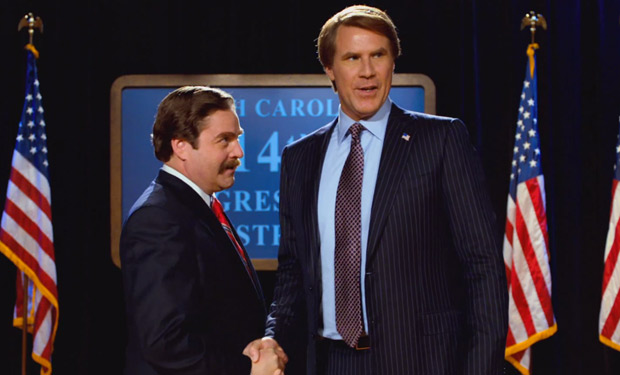 Posted by Terri Schwartz on
Will Ferrell and Zach Galifianakis are facing off in the upcoming movie "The Campaign," and they will definitely be fighting dirty. The first trailer for the flick has hit the web, and it comes replete with babies being punched, the Lord's name being said in vain and some pretty low momma smack talking.
Directed by Jay Roach, "The Campaign" follows North Carolina congressman Cam Brandy (Ferrell) as he seeks to gain his sixth election for Congress. He's run unopposed for the past five years, but all that changes when a newcomer named Marty Huggins (Galifianakis) decides to fulfill his lifelong dream of being a congressman and challenge Brady for the seat. Politically infused insanity soon ensues.
We love that Galifianakis seems to be channeling his best "Seth Galifianakis" vibe here. He's ditched his iconic beard for the sake of a somehow hokier mustachioed look, and seems to be channeling his most innocent brand of comedy yet. But with this being a Roach movie, we can expect things to get dirty and darkly hilarious very quickly.
"The Campaign" also stars Dan Aykroyd, Jason Sudeikis, Dylan McDermott, Brian Cox and John Lithgow. It's due in theaters on August 10.
What did you think of "The Campaign's" first trailer? Tell us in the comments section below or on Facebook and Twitter.