"The Avengers" breaks another "Dark Knight" record, earns Disney's top spot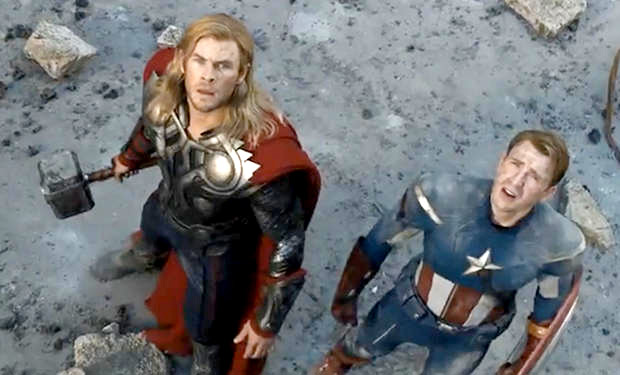 Posted by Rick Marshall on
Marvel's team of superheroes continued to assert their box-office dominance this week, building on a weekend that saw it become one of the fastest films to reach $1 billion worldwide and adding yet another record to the film's impressive list of accolades.
As of today, "The Avengers" is now the most successful film released by Walt Disney Pictures, moving ahead of "Toy Story 3" and "Pirates of the Caribbean: Dead Man's Chest" to take the top spot at the studio. The blockbuster team-up directed by Joss Whedon now sits at #6 overall among the highest-grossing films worldwide, pulling in more than $1.070 billion since its May 4 release.
And as always, the impending showdown between Marvel's big event and DC/Warner Brothers' franchise-ending Batman finale, "The Dark Knight Rises," continues to loom large over the success of "The Avengers." The Marvel movie shattered another record previously held by "The Dark Knight" this week, reaching the $400 million mark domestically in just 14 days — four days fewer than it took Christopher Nolan's critically praised follow-up to "Batman Begins."
As of Thursday, May 17, "The Avengers" has earned earned $668.7 million internationally and $402 million in the U.S. and the rest of North America.
While a sequel has already been green-lit by Marvel and Disney, Whedon recently expressed some uncertainty about returning to direct the next film. Given the long-term, multi-movie contracts signed by most of "The Avengers" cast, it's expected that all of the lead actors will be returning for another go-around as Earth's Mightiest Heroes in addition to any solo films.
Do you think "The Avengers" will win the upcoming box-office showdown with "The Dark Knight Rises"? Chime in below or on Facebook or Twitter.