"The Avengers" hits $1 billion worldwide, moves ahead of "The Dark Knight"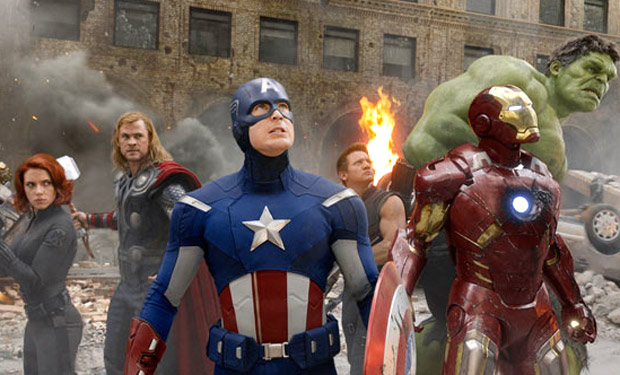 Posted by Rick Marshall on
The box-office victories keep rolling in for "The Avengers." Not only did the first joint production between Marvel Studios and Walt Disney Studios hit the $1 billion mark in worldwide ticket sales this weekend, but it also surpassed "The Dark Knight" to become the 11th highest-grossing film of all time.
The $1 billion box-office tally is especially notable due to "The Avengers" reaching that mark in just 19 days, despite only showing in the U.S. for 10 of those days. Joss Whedon's superhero team-up film has now earned an estimated $373.2 million in North America and $628.9 million internationally.
"We're obviously thrilled with the global success of The Avengers," said Robert A. Iger, Disney's Chairman and CEO, in an official statement regarding the film's record-breaking second weekend. "It's a fantastic movie and an extraordinary franchise that will continue with more great stories and compelling characters for years to come."
"The Avengers" is the first Marvel film to reach the $1 billion mark, and the fifth Disney film to do so after "Pirates of the Caribbean: Dead Man's Chest," "Toy Story 3," "Pirates of the Caribbean: On Stranger Tides," and "Alice in Wonderland." Its worldwide tally of $1,002.1 million this weekend puts it just ahead of "The Dark Knight," which has earned $1,001.9 million since premiering in 2008.
Among all of these other accolades "The Avengers" is also the fastest film to reach $200 million in the U.S. (it reached the mark in three days), the fastest to reach $300 million (nine days), and it now ranks as the highest gross for a Saturday ($69.5 million) and Sunday ($57 million) of all time.
Basically, the future has never looked brighter for Marvel's cinematic universe.
Of course, all this success made it somewhat of a given that a sequel to "The Avengers" would get the green light, and Disney gave it the official go-ahead last week. The plot of that film — and all of the Marvel movies that will premiere in the meantime — remains securely under wraps, but that hasn't stopped us from making a few guesses, as well as a few requests.
The next Marvel Studios movie to hit the big screen will be "Iron Man 3," due out May 3, 2013.