"The Amazing Spider-Man" photos show off the villainous Lizard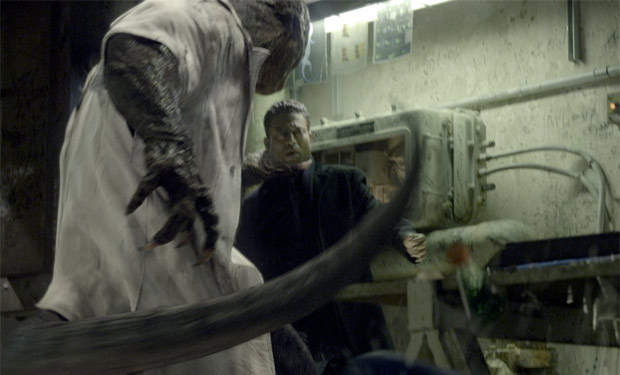 Posted by Terri Schwartz on
A new "Amazing Spider-Man" trailer should be arriving later today, and Apple has released several new images to tease its debut. Two of them feature the movie's big bad, the Lizard, and hopefully that means we'll get to see more of him in the theatrical trailer when it comes out.
There are several things we can take away from these pictures. First off, it's nice to see that the Lizard, formerly Dr. Curt Connors, is still wearing his iconic white lab coat in this movie. Considering he's a big hulking green monster, we understand that it's probably pretty hard to find clothes that fit, but we're glad director Marc Webb opted out of taking creative license on the Lizard's look.
It also seems like the same serum that changed Connors into a giant, terrifying lizard has also affected the man the Lizard is attacking. It doesn't seem like he wants that man around, though, judging by the firm grasp he has on the unfortunate man's neck.
In the other image, we see the Lizard holding Peter Parker's camera. That's seems like bad news for Parker, but it's also good news for die-hard fans who want to see this movie stay close to the source material. Just look at that old film camera! We're glad Parker is sticking to his guns and keeping it old school.
Starring Andrew Garfield and Emma Stone, "The Amazing Spider-Man" focuses on Peter Parker's journey to discover the secret of his parents' early death. That brings him face-to-face with Dr. Curt Connors, played by Rhys Ifans, who ends up becoming the film's villain, The Lizard. It's due in theaters on July 3.
What do you think of these new images? Are you excited for the new trailer? Tell us in the comments section below or on Facebook and Twitter.