"The Amazing Spider-Man" pictures show off the Lizard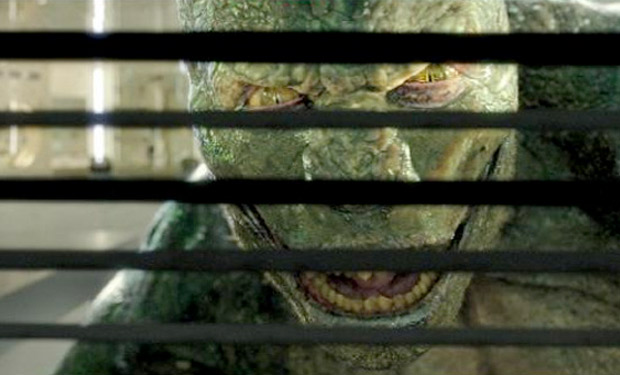 Posted by Terri Schwartz on
There's plenty to be excited about in "The Amazing Spider-Man," but the element of the movie that we're most interested in is the Lizard. And the folks at Sony know it, too.
Though we've had teases of the movie's villain in trailers, promos and photos, but we've never seen him clearly. This newest image from Entertainment Weekly (via ComingSoon.net) is the closest we've come to seeing him face-to-face.
Of course, it's his face behind some blinds, but that's just semantics. EW has two more pictures as well, including an image of Emma Stone looking pretty concerned as she gazes at a giant, Lizard-shaped hole in one of her high school classrooms. The last picture shows Dr. Curt Connors seemingly going through his Lizard transformation.
When Marc Webb recently discussed Rhys Ifans' take on the Lizard, he said his goal was to make him be as nuanced as possible.
"In the comics there are different incarnations of the Lizard. There's the MacFarlane one, which has the snout, but I was interested more in finding something that could relate human emotions," he said. "So Rhys's performance is giving that nuance, getting the eyebrow tics and the looks. Creating an armature that can actually speak and lips that make sounds. It's a very detailed and, frankly, tedious process. I really wanted to capture emotion."
Starring Andrew Garfield and Emma Stone, "The Amazing Spider-Man" focuses on Peter Parker's journey to discover the secret of his parents' early death. That brings him face-to-face with Dr. Curt Connors, played by Rhys Ifans, who ends up becoming the film's villain, The Lizard. It's due in theaters on July 3.
What did you think of these new images? Tell us in the comments section below or on Facebook and Twitter.