Our ten favorite movies that go Bang! Bang! (with video)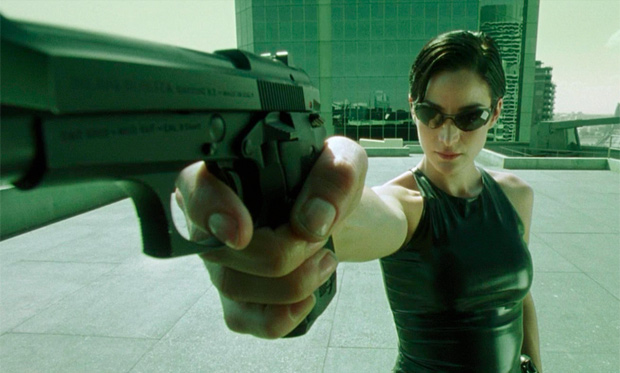 Posted by Bryan Enk on
Every day this week, IFC will be airing movies that go "bang" in celebration of our upcoming series, "Comedy Bang! Bang!"(premiering June 8).
But those films ("Conan the Barbarian," "U-571," etc.) are hardly the only "bangiest" movies. Below, lock and load with these ten more films guaranteed to satisfy the cravings of even the most discriminating action junkie. And don't forget to tune into IFC each night this week at 8/7c for Movies that go Bang! Bang!
---
"Hard Boiled" (1992) – hospital shootout
John Woo's final Hong Kong action film before heading to the States to call the shots on such American shoot-'em-ups as "Hard Target," "Broken Arrow" and "Face/Off" features Woo's muse, Chow Yun-Fat, as Inspector 'Tequila' Yuen, and Tony Leung Chiu-Wai (not quite yet Wong Kar-wai's muse) as undercover cop Tony, taking on Johnny Wong (Anthony Wong), the leader of a Triad crime syndicate. Their mission leads to several confrontations in which countless bullets fly as only they can in a John Woo movie, finally climaxing in an astonishingly choreographed gun battle at a hospital, where the two heroes must rescue innocent civilians and newborn babies from dozens of mob hitmen skulking about the maternity ward. Sure, "A Better Tomorrow" and "The Killer" might be "better" films, but this particular sequence – a glorious ballet of carefully constructed and executed mayhem – might be Woo's all-time stand-alone masterpiece.
---
"Heat" (1995) – bank robbery
Michael Mann's obsessive-compulsive attention to accuracy in even the smallest details is on full display in the bank robbery (and its bloody aftermath) scene in the writer-director's epic crime drama, "Heat." Robert De Niro's team of thieves takes on what seems to be most of the Los Angeles Police Department in this sequence, which many consider to be one of the all-time best action scenes in American cinema. The robbers lay down heavy machine gun fire as the cops shoot back in short, controlled bursts in an attempt to keep any and all collateral damage to a bare minimum; Mann went to great lengths to portray a shootout on the streets of L.A. as realistically as possible with a keen eye toward character and procedure. The meticulous (and loud!) sound design is rather astonishing, too – play this scene on your surround sound set-up and your neighbors will think someone declared World War III.
---
"The Killer" (1989) – church shootout
What's a John Woo movie without lots of gunfire. . . and white doves flapping around all symbolic-like? Many souls are released unto the afterlife in the amazing church shootout in "The Killer," Woo's bloody and majestic fable about an assassin who has a crisis of conscience. Chow Yun-Fat is Ah Jong, a hitman who accidentally damages the eyes of a singer (Sally Yeh) during a shoot-'em-up; he later finds out that she'll go blind unless she has surgery, which prompts him to do One Last Hit in order to pay for the expensive operation. Woo designed "The Killer," with its story of the strong bond between two seemingly opposite people lost in a violent world, as an ode to the work of Jean-Pierre Melville and Martin Scorsese; the film itself went on to influence the likes of Quentin Tarantino and Robert Rodriguez with its likable (and very human) antagonist and over-the-top yet artfully executed violence. If you can only see one John Woo movie before you die (and what a drag if that's the case for whatever reason), it's a toss-up between this one and "Hard Boiled."
---
"Léon: The Professional" (1994) – SWAT scene
Oh, stupid SWAT team leader. Yes, Mathilda (Natalie Portman) and Leon (Jean Reno) have arranged for a secret knock that identifies one to the other. But, being the skilled "cleaners" that they are, they've also arranged for another secret knock, one that translates roughly into "Remember that possible scenario involving a bunch of cops right outside the door in SWAT gear? Well, that possible scenario is nigh, dude." Mathilda gives Leon enough of a warning to allow him to get the upper hand (at least for a little while) on some of NYPD's finest, which leads to an intense apartment shootout that's going to have the landlord frantically dialing his insurance company (that is, if the phone lines are even still intact). The most exciting action sequence in Luc Besson's now-classic thriller is also one of of the most heartbreaking as Leon and Mathilda are forced to accept what was probably inevitable about their relationship, both "Professional" and personal.
http://www.youtube.com/watch?v=evWQ2MsDTS4
---
"The Matrix" (1999) – lobby shootout
One of the most crowd-pleasing moments in the Wachowskis' game-changing sci-fi film is also one of the most oddly mean-spirited and downright amoral; after all, these are just poor security cops trying to do their damn jobs, not legitimate enemies who are in cahoots with the Agents who have kidnapped Morpheus. The fact that the (more or less) innocent people being shot full of holes are just physical projections of imprisoned pod-slaves all connected to a virtual reality consciousness at least takes some of the edge off as Neo (Keanu Reeves) and Trinity (Carrie-Anne Moss) wreck the kind of slo-mo action mayhem that was cool back in 1999, cutting (shooting) a bullet-ridden path through the lobby as they execute their daring rescue mission. Alas, the Wachowskis forgot that the Mentor should probably die in the first chapter (haven't they seen "Star Wars?"), an oversight that unfortunately reduces Morpheus to little more than just a hapless passenger nervously reacting to Jada Pinkett Smith's daring pilot skills by the third movie.