Simon Pegg insists Khan is not in "Star Trek 2"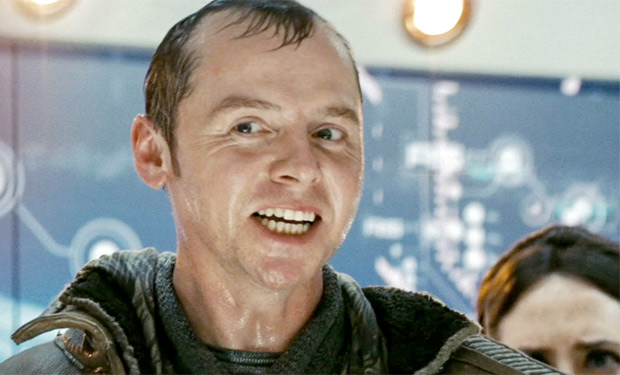 Posted by Terri Schwartz on
It's become a bit humorous that fans are more concerned about what villain Benedict Cumberbatch will be playing instead of what the still untitled "Star Trek" sequel will be called. But that's all anyone seems to care about nowadays, and star Simon Pegg has sent us for a loop yet again.
At some point everyone sort of accepted that the "Trek 2" villain will be Khan despite everyone claiming that's not the case, but now Pegg has come out and stated definitively that the beloved "Wrath of Khan" baddie will not be in this movie.
"It's not Khan," he told The Telegraph. "That's a myth. Everyone's saying it is, but it's not."
Well that just brings us back to square one. Pegg went on to describe Cumberbatch as playing "not just another disgruntled alien," but that doesn't give us much. We've seen plenty of shots of Cumberbatch in costume, but that's gotten us no closer to deducing who he will be playing. At this point, it seems like Pegg, director J.J. Abrams and the rest of the "Trek 2″ crew are just giving us the run around. With all this build-up, it would almost be more fun to just wait until the movie comes out to have that mystery be revealed. Let's see if it can stay unspoiled for one more year.
As for the movie, Pegg said we're in for a treat.
"This time we had the benefit of being able to hit the ground running –- we spent some time in the first one re-establishing the characters," he said. "Now we have a fully set-up group of people that we can just get on with straight away. So it ups the ante slightly, and we've all had more to do. So it's totally incumbent on us to not drop the ball. It would be a disaster if it wasn't as good as -– or better than –- the first one."
"Star Trek 2" is due out in theaters on May 17, 2013. It also stars Chris Pine, Zachary Quinto, Anton Yelchin, Karl Urban, John Cho and Alice Eve.
Who do you think Cumberbatch could be playing? Tell us in the comments section below or on Facebook and Twitter.