Tim Grierson on the 10th anniversary of "Spider-Man," the superhero movie that made superhero movies cool again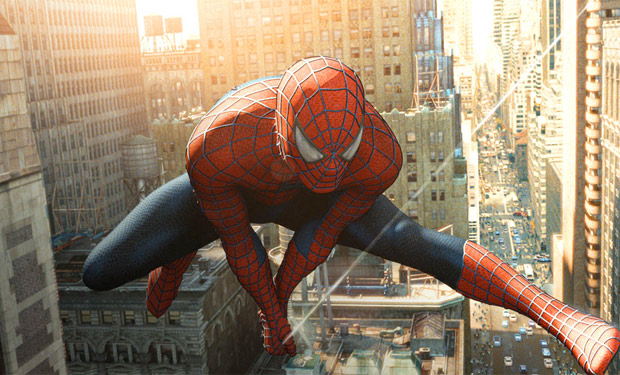 Posted by Tim Grierson on
As expected, "The Avengers" was a colossal hit this past weekend, cementing the fact that we've long lived in an era of comic-book movies. And it's not going to end any time soon, not when you've got "The Amazing Spider-Man," "The Dark Knight Rises," "Man of Steel," "The Wolverine" and several others coming our way in the next few years. (And that's not even counting films like "Men in Black 3" and "Abraham Lincoln: Vampire Hunter," which are based on comic books but don't feature superheroes.) It's easy to forget that it wasn't always like this. In fact, 10 years ago, superhero films weren't nearly the studio staple they are now. But in May 2002, that changed for good thanks to a little film called "Spider-Man."
Not that long ago, it seemed unlikely that we would ever get a Spider-Man movie in our lifetime. Complicated rights issues over the property and a series of different treatments and scripts — including one written by James Cameron after the success of "Terminator 2" — had kept the project mired in endless pre-production since about 1985. But in the early 21st century, those legal woes got worked out and Sam Raimi (the man behind the "Evil Dead" films and "Darkman") was brought on board to direct the film.
If the choice of Raimi, a beloved cult-film favorite, seemed risky, than so too was Sony's pick for Spidey. Before "Spider-Man," Tobey Maguire was mostly known as an indie actor from films like "The Cider House Rules," "Wonder Boys" and "The Ice Storm." By comparison, his co-star, Kirsten Dunst, had enjoyed some major hits in "Interview With the Vampire" and "Jumanji," but that was back before she was even a teenager. Ultimately, though, the studio probably decided that it had found a respected filmmaker and two seasoned, acclaimed actors, which in the long run would hopefully mean more than their meager box office track record. After all, people were going to go to a Spider-Man movie because it had Spider-Man in it, not because it starred the kid from "Pleasantville."
The gamble paid off handsomely. Boosted by good reviews, "Spider-Man" opened on May 3, 2002, grossing almost $115 million in the U.S. in its first weekend, crushing the previous record-holder, "Harry Potter and the Sorcerer's Stone," which had pulled in a measly $90 million. The film went on to be the year's top U.S. grosser, behind only "The Lord of the Rings: The Two Towers" and "Harry Potter and the Chamber of Secrets" worldwide. But more than that, it helped make comic-book movies a priority in Hollywood. "Spider-Man" didn't do this alone, of course — "X-Men" had been one of 2000's biggest hits — but at a time when Batman and Superman had fallen out of favor with moviegoers, the webslinger argued convincingly that audiences would still flock to a top-shelf superhero franchise.
We're still feeling the effects of "Spider-Man." Between 1996 and 2001, we only had one movie starring costumed superheroes end up as one of the year's top 10 grossing films. From 2002 to the present, there's only been one year where that hasn't happened — and even in that case, in 2009, "X-Men Origins: Wolverine" was still the year's 13th-highest grosser. There had been early-May releases before "Spider-Man" that had been successful, including "The Mummy Returns," but after "Spider-Man," summer movie season officially started on that first weekend, often being the launching pad for other Marvel comic-book movies: "X2: X-Men United," "Spider-Man 3," "Iron Man," "X-Men Origins: Wolverine," "Iron Man 2," and, this year, "The Avengers."
Ten years after the success of "Spider-Man," Peter Parker is coming back to theaters in a rebooted form, "The Amazing Spider-Man," although it's funny that Sony seems to be recycling somewhat the strategy of how they put the first version together. Once again, the studio has brought on a director not known for blockbusters — Marc Webb, who previously directed "(500) Days of Summer" — and found a star known for artier fare in the form of Andrew Garfield. But unlike in 2002, "The Amazing Spider-Man" comes into a market where superhero movies are the norm, not the exception. Ten years ago, Sony had to prove that people would come out for a comic-book movie; now, they have to prove that people will come out for a new Spider-Man franchise.
"Spider-Man" provided the template for many future Marvel films, melding light comedy with action. The underlying idea was that, hey, comic books are a blast, and so this movie should be, too. You can feel that blueprint in "Iron Man," "X-Men" and most certainly "The Avengers." By comparison, Christopher Nolan's Batman movies have adopted a much more serious, brooding tone, creating the other template of the modern-day superhero flick. Interestingly, it looks like "The Amazing Spider-Man" is Sony's way of making their own "Dark Knight" version of Spidey. How things have changed — and that's not the only way. When it opened in May 2002, "Spider-Man" broke the record for best first-weekend opening ever. After "The Avengers," it's now merely the 13th best.