"Skyfall" teaser promises guns, intrigue and explosions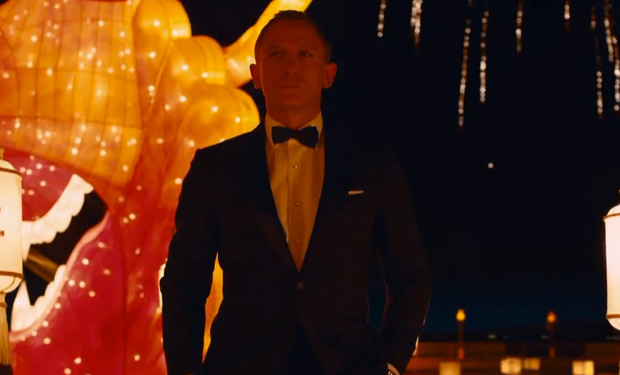 Posted by Terri Schwartz on
If you were looking for lots of exposition in the first teaser trailer for "Skyfall," you aren't going to get it. But if you were looking for proof that the long-anticipated entry into the "James Bond" film series has all the makings of a classic 007 flick, then you're in luck.
Though it doesn't give away much in terms of plot, the first trailer for the movie certainly has us teased. In addition to plenty of Daniel Craig action, it gives us our first official look at Ralph Fiennes' character — it looks like he's a member of MI6 — as well as a vague silhouette of Javier Bardem. We also get quick shots of two of the film's Bond girls: Berenice Marlohe's Severine and Naomie Harris' Eve.
We almost wish that the teaser had set up the whole M (Judi Dench) subplot a bit more, but there are plenty of scenes in the video that we can read too much into. For instance, why does everyone look at M when Bond is asked about "Skyfall"? Could it be that it has something to do with her? In all likelihood, yes.
"Some men are coming to kill us," Bond says at the end of the teaser to someone who looks a heck of a lot like M. "We're going to kill them first." Goodness, but we love our Bond on the run.
A plot synopsis released for the film promises that Bond's loyalty to M is tested when a secret from her past comes back to haunt her. It's up to 007 to track down and get rid of the threat in order to protect MI6 and the world.
"Skyfall" also stars Albert Finney, Ben Whishaw, Helen McCrory and Ola Rapace. It's set for release on November 9.
What do you think of this first "Skyfall" teaser trailer? Tell us in the comments section below or on Facebook and Twitter.