First poster for "Sin City: A Dame To Kill For" debuts with new "Machete Kills" teaser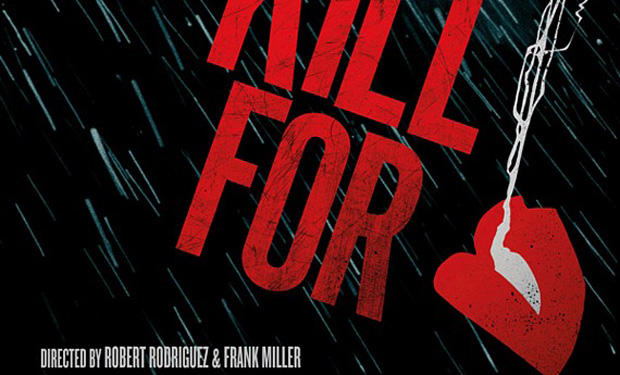 Posted by Rick Marshall on
Okay, so don't get your hopes up too much, but this might actually happen, people.
What appear to be new promotional posters for "Sin City: A Dame To Kill For" and "Machete Kills" have popped up online. And while neither poster offers much insight into the status of their respective films, the simple fact of their existence means that both Robert Rodriguez projects just might make it to theaters — which isn't surprising for "Machete Kills," but almost unbelievable for the eternally in-development "Sin City" sequel.
The poster for "A Dame to Kill For" initially appeared on Portuguese-language site C7nema (via Movies.com), where it's indicated that the film will be a 3-D movie — which also isn't too surprising, given the first film's emphasis on the visual side of things.
Our last update on "Machete Kills" had the film kicking off its shooting schedule sometime soon, with production on "A Dame To Kill For" now likely to begin at some later point. With the timing of these posters hitting the 'net — just ahead of the annual Cannes Film Festival, where "Sin City" first premiered — there's reason to believe Rodriguez could be targeting next year's festival for the "A Dame To Kill For."
Thus far, it's been confirmed that the "Sin City" sequel will be composed of at least three stories — two from Frank Miller's original comics ("A Dame To Kill For" and "Just Another Saturday Night"), and one new story he wrote for the film ("The Long, Bad Night"). Miller will co-direct the film, and Jessica Alba will reprise her role as Nancy Callahan. Her character is expected to provide a common element that connects all three stories.
Given the characters that appear in the two existing stories, it's reasonable to believe Mickey Rourke, Rosario Dawson, Michael Clarke Duncan, and Devon Aoki could return for the sequel. Although Clive Owen's character Dwight McCarthy plays a major role in "A Dame To Kill For," the story occurs prior to "The Big Fat Kill" (from "Sin City") chronologically, and involves a case of facial reconstruction that could render Owen's presence in the film minimal at best.
Nevertheless, as production moves forward, we're likely to find out more details about both films in the near future.
What do you think of these first posters for the films? Do you think the "Sin City" sequel will happen? Chime in below or on Facebook or Twitter.