Sandra Bullock and Melissa McCarthy join Paul Feig's untitled buddy cop comedy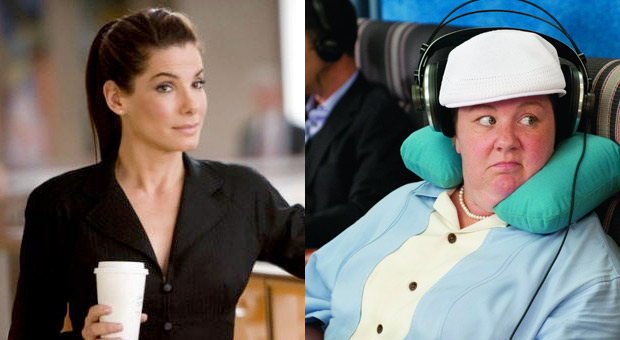 Posted by Terri Schwartz on
Other than writing a scene for "The Amazing Spider-Man," Paul Feig has laid surprisingly low since "Bridesmaids'" Oscar-winning run ended. He's tossed around plenty of ideas for projects since he directed the breakout comedy of 2011, but the one he's finally landed on definitely has us intrigued.
The Hollywood Reporter has learned that Feig is planning an untitled buddy cop comedy for Fox, with two unlikely leads. Sandra Bullock and Melissa McCarthy have come on board to star in the project.
Bullock will play an "uptight FBI agent" while McCarthy will play an "unconventional Boston cop." They're forced to work together in what THR describes as a "strained working relationship."
Apparently Fox is fast-tracking the project to shoot over the summer so that it can fit with McCarthy's "Mike and Molly" hiatus. Bullock now has a clear slate since she wrapped "Gravity," and Feig similarly doesn't have any projects on his plate at the moment. He is however planning to film his adaptation of "Intouchables" in the fall, following this comedy's shoot.
The flick is being written by "Parks and Recreation" scribe Katie Dippold. Though it doesn't have a planned release date yet, we're guessing it will come out at some point in 2013.
Are you as excited for this team up as we are? Tell us in the comments section below or on Facebook and Twitter.