HCFF: Robert Kirkman talks "The Walking Dead" showrunner shift and Zack Snyder directing an episode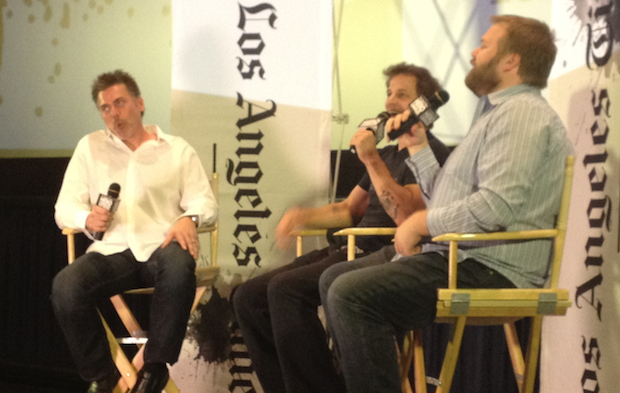 Posted by Terri Schwartz on
That being said, Kirkman promised that the development of the series won't affect the way he writes the comic book.
"I have a really hard and fast rule to try to make sure that the comic doesn't change because of the show, because I feel like the comic's existed for a long time before the show and I would be doing a disservice to myself if I changed the way I did anything," he said.
If you're all caught up on this season of "The Walking Dead" or you've read the graphic novel, you know Kirkman is not afraid to kill some of his main characters. But he made it clear that he was definitely affected by writing those deaths.
"A lot of people think that I'm like, 'Aww yeah, this is awesome, let's kill some more babies!' There are a lot of babies that die in the comic. We haven't gotten a lot of baby death on the show yet, but it's coming," he promised. "Every now and then I'm writing a scene and I tear up because I'm killing someone I've been writing for like 30 issues and something bad's happening. Oh, I cry a lot, to be honest with you. Anything can make me cry."
As Snyder is no stranger to zombie films and obviously has a good rapport with Kirkman, one fan asked if he would ever be interested in shooting an episode of "The Walking Dead."
"Would you?" Kirkman also asked him with intensity.
Snyder laughed it off, saying, "I don't have time, I don't think, but if I ever did…" The audience started booing, and he added, "By the way, I'm not going to say I wouldn't." He continued, "I'm a big fan of the show and we watch it religiously and we watched it all through when we were shooting ['Man of Steel']."
Kirkman seemed totally into the idea, and tried to convince Snyder to come on board. Unfortunately we don't think it worked.
"We would pay you like… a fair rate," Kirkman said while the audience laughed. "And you would probably get about eight days to shoot an episode."
"What? Eight whole days?" Snyder said with a laugh. "Normally I do one shot in eight days, but it would be cool to try to do one hour of programming."
He added, "I didn't say no." It wasn't a yes either, but we can dream.
What do you think of Kirkman's comments on "The Walking Dead" TV show? Tell us in the comments section below or on Facebook and Twitter.