HCFF: Robert Kirkman talks "The Walking Dead" showrunner shift and Zack Snyder directing an episode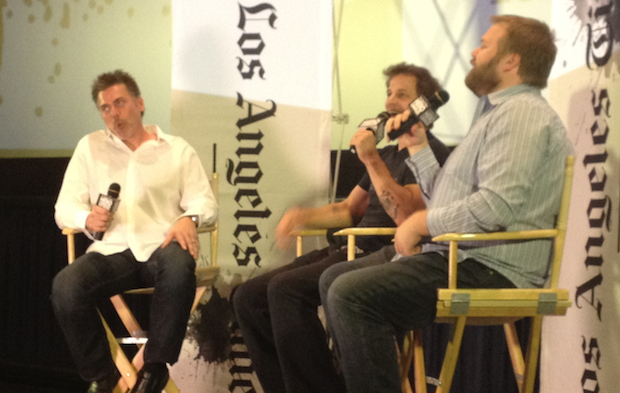 Posted by Terri Schwartz on
Though Robert Kirkman attested that he only agreed to be a guest at The Los Angeles Times' Hero Complex Film Festival to try to get Zack Snyder to talk about "Man of Steel," he actually spent a good amount of time talking about the TV adaptation of his hit comic book series, "The Walking Dead."
Last year was a bit tumultuous for the critically acclaimed AMC series. It lost its showrunner, Frank Darabont, about half way through the second season, and then had to transition to the new one, Glen Mazzara. We've heard Mazzara talk about this transition plenty, but it was interesting hearing about it from Kirkman's perspective.
"That really is a testament to Glen Mazzara's skill and talent for being able to come in under all that turmoil and just be able to go, 'Oh okay, we're making a show here, here's how we're making a show, here we go.' Because I mean he really hit the ground running and was like, 'You're working on a script, you're working on a script, you're working on a script, I'm going to set, you do this, I'm talking to actors, I'm doing that,'" Kirkman said.
He continued, "[Mazzara] really kind of turned into a drill sergeant and really kind of made the show happen. You could really tell that his 'Shield' sensibility — because he worked on 'The Shield' with Shawn Ryan — really came into the show midway through the second season, and I think that's why everything got more intense and it was a lot more faster paced. There was a lot of cool stuff, and it was really his flavor being worked into the show."
Production on the show's third season is already underway, and Kirkman said that he just wrapped writing its eighth episode. Considering the graphic novel is a lot farther along than the TV show is, Kirkman said he sometimes was taken aback by the fact that some major events haven't occurred yet. Be warned, there are spoilers ahead.
"It is a strange process," Kirkman said of writing for the show. "I was working on the script for the eighth episode and I kept going, 'Oh yeah, Rick has two hands!' Oh crap, I think I revealed he has a second hand in the eighth episode, I think that could be a spoiler."