Richard Linklater and Jack Black talk "Bernie" and a "School of Rock" sequel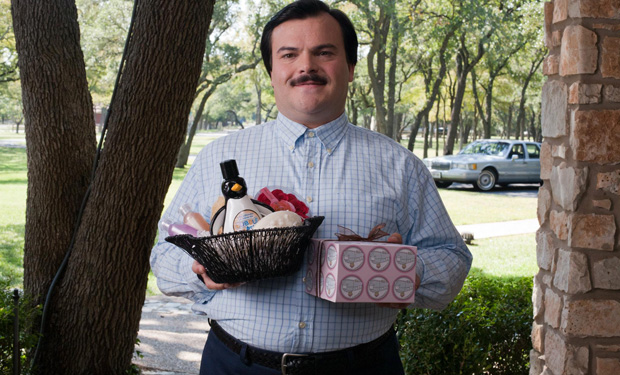 Posted by IFC on
By Jennifer Vineyard
A small-town funeral director kills the wealthiest widow around, stuffs her body in a freezer, and pretends she's still alive so he can keep spending her money. Not only is that the plot of Richard Linklater's latest comedy "Bernie" starring Jack Black and Shirley MacLaine, but it's also a true story: Bernie Tiede is currently serving a life sentence in Texas for the murder of Marjorie Nugent, for which he'll be eligible for parole in 2027.
But more than just ripping a story from the headlines, Linklater created the film as a fiction/documentary hybrid, in which the townspeople themselves help tell the story.
"I always thought of it as a drama with these locals as a kind of an East Texas Greek chorus, the way [the Warren Beatty film] 'Reds' has witnesses, too," Linklater told IFC. "Other films do that, but a lot of this was just gossip, so it's to tell the story via the gossips. In fact, they are played by a lot of real people from the area — the hairdresser, a neighbor, somebody who traveled with them, people who attended the church with them — but not all of them knew Bernie. Some of them just knew about it."
"That would be a cool DVD feature," Black said. "This person did know, this person didn't know. It could be a game."
The gossips have a unique spin on the murder because in the town of Carthage, Texas, Bernie was so incredibly popular, while Marjorie inspired new levels of hate — so much so that even after people knew about the murder, nobody wanted to blame Bernie for the crime, forcing the district attorney (played by Matthew McConaughey) to seek a change of venue for the trial. Matthew's mom Kay even makes a cameo, playing one of the gossips who confronts the D.A.
"Can you tell by looking at her?" Black asked. "I didn't know it was her, but she is one of my favorites. It really runs in the blood in that family. And you know, she's really keen on getting something going, the two of us. We're talking about doing some kind of side project. I don't know if it's going to be a movie or a band or what, but it's going to be something. She's got it."
Because Bernie sang at church and funeral services, Black has quite a few gospel numbers in the film. "This felt like a musical to some degree," Linklater said. It whetted the singer/actor's appetite to put out a soundtrack of the material ("because the songs are so great, and I love singing the gospel") as well as getting together with Linklater for that much-discussed "School of Rock" sequel.
"It's not like this one had anything to do with that one, because music is the only thing they share," Black said, "but really, I'd love to work with Rick again on 'SOR' or whatever." Linklater, who was present, nodded yes. "That would have been a very awkward pause if he didn't say yes!" Black laughed.
But when could that happen? After all, Mike White had a screenplay for the project at one point, but that idea seemed to have fizzled out.
"Whenever Tenacious D did interviews, people would ask us, 'When is the next album?' And we would just say, 'Definitely the summer of 2012,' as a joke, because it was so far away," Black said. "But now, it is happening, and in that relative time frame, despite it being a fictitious date" (since "Rize of the Fenix" hit shelves May 15). "But I don't see a movie happening for this one. I could see Tenacious D in an animated web series, having another adventure, but the union would frown upon Jack Black — sorry to use myself in the third person — they would frown upon first, second, and third person versions of myself, and fourth, on film. But the web series wouldn't be until 2013."
"School of Rock," he said, wouldn't be until 2020, because his "natural cycle" of working with Linklater is every eight years. "So look for us in 2020!" Black laughed.
"I feel lucky that after eight, nine years, we actually got to do this one," Linklater said.
Linklater said he's on a similar nine-year cycle with Ethan Hawke and Julie Delpy, with whom he made the "Before Sunrise and "Before Sunset" films (and may still make a third in the series). "We're calling it 'More BS,'" he joked. "Or 'Before Lunch.' Nothing's set it stone on that one yet, but it's one of the least successful films ever made that spun sequels. How about 'Before Breaking Dawn'?"
In the meantime, Linklater continues to shoot a few days a year with Hawke on a project alternately called "The 12 Year Project," "Boyhood," and "Growing Up," in which the director chronicles a boy, played by Ellar Salmon, throughout his childhood (Hawke plays his father, and Patricia Arquette his mother). They've been shooting for ten years now, and Linklater estimates he's got two more years left.
"That one is an intriguing process," he said. "It's a three day shoot, every year, at different times of the year. And we're almost done."
Chime in with your thoughts on this interview with Jack Black and Richard Linklater below or on Facebook or Twitter.