HCFF: Rainn Wilson and James Gunn talk the cult of "Super"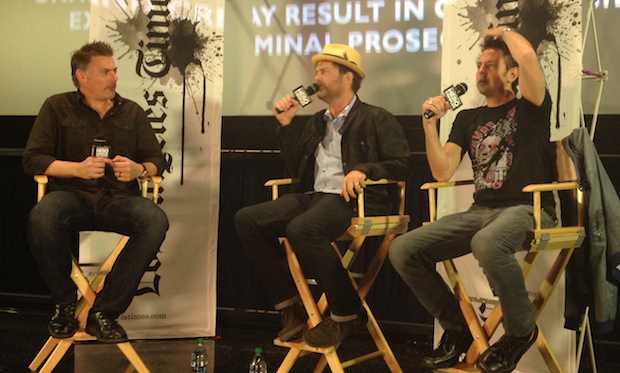 Posted by Terri Schwartz on
"Super" is a movie that is all still fresh in our brains, and one that that was easily the youngest film present at the Hero Complex Film Festival. But host Geoff Boucher explained that he felt the flick will stand the test of time and one day sit happily next to such classics as "A Clockwork Orange," "RoboCop" and "Shaun of the Dead," which is why he included it in the line-up.
Star Rainn Wilson and writer/director James Gunn seemed honored to be present at the festival, even though they said it wasn't too long ago that they were telling these same stories. That being said, they felt that the movie has really found its niche since it was released in 2010.
"It's great that it's really reaching an audience," Wilson said. "People are loving the movie. I think it's getting in the groundwater and I think it will really last, and that's a really cool thing. That's why you do it, especially kind of a weird, low-budget little cult film like this. People are very moved by it, and I like that."
"Super" is sort of a comedy, sort of an action flick, sort of a drama and sort of a cult movie, and Gunn always knew that it would be a hard sell. He explained that he made the movie for the specific audience that would like it, instead of trying to appeal to a wide audience.
"I knew it was not a movie for everyone. It really was a movie for a few people and I feel really good about that. I knew that from the beginning," Gunn said. "The people who love 'Super' like fucking love it. It touches them and it movies them. And we meant it sincerely, it was our story. That's who I made the movie for."
Gunn originally wrote the script back in 2002, and it first got financing back in 2004. He couldn't find the right actor for the project then — he wanted John C. Reilly, but his financiers felt he "wasn't a big enough star" (yet) — so it was put on hold while he did "Slither." After that, it was Gunn's ex-wife, "The Office" star Jenna Fischer, who turned him on to Wilson.
"I really needed somebody who could do the acting part, who could do the comedic part, who was a big enough goof that you could think he was getting picked on by the cook at the diner but is also a big enough guy that you could imagine him kicking ass at the end of the movie," Gunn said.
Well, Wilson certainly fits that model to a T. After that, Gunn said it was surprisingly easy to get the cast that they needed. He wanted an Ellen Page-type for Boltie, and they got Ellen Page. Liv Tyler was a passionate supporter of the project, and used her prestigious name to swing a lot of the financing and pull some strings. Kevin Bacon was a last-minute addition, but one that was no less dedicated to the project. With those all set, it was just a matter of making the movie.
One of the things that's interesting about "Super" is that the superhero storyline in the movie is sort of secondary. Gunn acknowledged that during the post-screening Q&A.
"['Super' is] really much more about the fact that he's this guy," he said. "And I think the story could be told without him putting on the suit, but the suit's kind of like gravy that gives it a little bit of extra something, but it's really not about him being a superhero. It's about him being this guy who lost his wife and how he tries to deal with it."
Much of the influence for the film stylistically came from Asian cinema, but Gunn said much of the inspiration for the story came from Alan Moore.
"He wrote 'Watchmen' and sort of deconstructed the superheroes and was really trying to deconstruct the superhero idea in that same way," Gunn said.
Even though "Super" seemed like an original idea when Gunn was writing it, he soon found himself with another similar project: "Kick-Ass." But it turns out that there's no bad blood between him and "Kick-Ass" creator Mark Millar, and in fact Millar was very supportive of Gunn's film.
"I'm actually friends with Mark Millar online. We're email buddies," Gunn explained. "Back in 2004 or whatever he said, 'What are you working on now?' and I said, 'Well, I've got this screenplay I've gone out with,' and I told him what the gist of the screenplay was, and I think we've got the money for it, I think we've set it up, and he emailed me back and was so bummed out and was like, 'Well shit, I'm writing this comic book,' which was 'Kick-Ass.'"
It seems like the making of "Super" was a good experience for both Gunn and Wilson. Though they both have other projects at the moment, they agreed that they would be open to working with one another again. Wilson even teased that he had an idea that he was going to pitch to Gunn in the coming week. Considering how off-the-wall "Super" was, we can only imagine what their next collaboration will be like.
Would you like to see Gunn and Wilson work together again? Tell us in the comments section below or on Facebook and Twitter.