HCFF: Peter Weller talks "Robocop" remake, "Star Trek 2" and too much more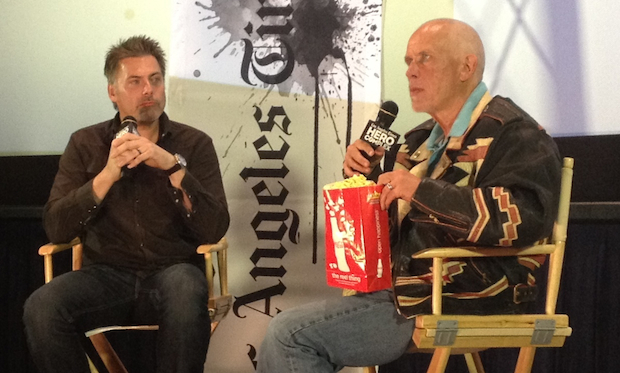 Posted by Terri Schwartz on
Peter Weller has a lot to say. That's the main thing that those who attended Saturday's "Robocop" screening during the Hero Complex Film Festival learned about the actor. He has a lot to say about everything, be it the caves of Lascaux or process trailers or his love of Philip K. Dick. The man went on a wonderfully passionate and slightly unhinged rant for a good hour after the screening of "Robocop," and everyone present was in for a treat.
In the midst of all that fervor, though, he did talk about quite a few things that we figure those of you reading this site will find pretty interesting. To start, he shared his thoughts on the planned "Robocop" remake that is currently in pre-production. Needless to say, he doesn't care for the idea very much.
"I couldn't give a shit," he said. "I say you know what, god bless them, man. Go make another 'Robocop.' I got to tell you this: when I sat there in Dallas three weeks ago to watch this thing, I don't know. I mean, can they throw a lot of CGI at it and so forth? The morality that's endemic to the movie that you just watched, it's hard to replicate."
He continued, "I mean, it makes you laugh and cry and moves you and hysterical and horrible and all those unbelievable things at once. Well good luck to them. They'll never do it."
We agree with Weller, though the way Joel Kinnaman talks about the project has us slightly intrigued. Still, it's clear from the way Weller talks about the film that it's near and dear to his heart despite the 25 years that have passed since he filmed it.
It's some asthetic distance that I have from the film, and I had forgotten the … social history in 'Robocop;' you know, I'd forgotten how profound these writers are. They're not only funny with those extraordinarily acerbic social obsessions like board games called Nukem. I mean, this is 1986. The parameters of friendly aggression even then," he said.
He added about a recent screening of the movie in Dallas, "I had the first time, I had to say, that I got past the hoopla of the film and was genuinely proud to be part of it, to be really proud to be part of this film, and to see how anthropological it is."
Weller talked a lot about his upcoming TV series, a modern Western called "Logmire," but he also teased his role in "Star Trek 2." He wouldn't give us any details about his actual role, but he did explain just how strict Paramount was being about actors talking about the movie by telling an anecdote about a recent interaction he had with a man in Dallas.
"This guy is like following me in Dallas and he's like, '"Star Trek," are you playing an alien?' And I just turned around — and I'm not going to tell you if I am or not — but I just said, 'Hey, do I look like an alien?' and I walked into the thing," Weller said. "Paramount went just nuts. 'You can't say anything!' I didn't. What does that tell you? 'Do I look like an alien?' What am I going to do, put band aids over my mouth for Christ sake?"
That's just about as much as Simon Pegg told us the night before after the "Shaun of the Dead" screening, so it seems like Paramount really is cracking down on the actors. Hey, we only have a little under a year to wait to find out the scoop on the flick, since it's coming out May 17, 2013. That's not too long in the scheme of things, right?
Do you agree with Weller's sentiments on the "Robocop" remake? What do you think of the movie's social message? Tell us in the comments section below or on Facebook and Twitter.