Paul Reubens says new "Pee-Wee" movie is "getting shot very soon"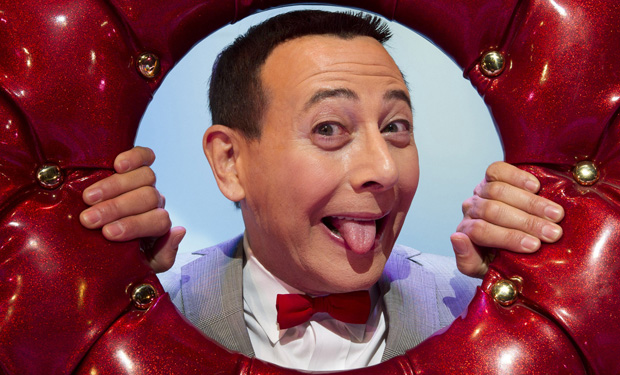 Posted by Rick Marshall on
It's been a long time since we heard anything new regarding the long-rumored feature film that will bring Paul Reubens back to the big screen as iconic man-child Pee-Wee Herman. Apparently, things have been moving along behind the scenes, as Reubens offered an update on the still-untitled project during a recent press event for the "TRON: Uprising" animated series.
"That's any minute, supposedly," Reubens told ComingSoon.net of film's status. "…It's going great. We have a meeting this coming week. We just did a very quick little rewrite on it. As far as I know it's getting shot very soon."
Originally announced way back in 2010, Reubens is teaming up with Judd Apatow to bring Pee-Wee Herman back to the screen with a film co-written by Reubens and Paul Rust ("The Pee-Wee Herman Show on Broadway"). Apatow will produce the movie.
According to Reubens, word on the project wasn't supposed to get out as early as it did, but things are progressing rapidly now.
"I actually wasn't supposed to talk about it initially," said Reubens. "I was talking about it in this very veiled, secret way going, 'Oh, I wish I could talk about it.' …It got leaked about six months to a year before it was supposed to."
When (and if) the film does end up hitting the screen, it will be the third film in a franchise that kicked off with 1985's "Pee-Wee's Big Adventure" (directed by Tim Burton) and continued with 1988's "Big Top Pee-Wee."
Before Pee-Wee Herman returns to the screen, however, Reubens will provide the voice of a character named Pavel in the upcoming "TRON: Uprising" animated series, which premieres June 7.
Would you like to see another "Pee-Wee" movie? Chime in below or on Facebook or Twitter.