Noomi Rapace is a scientist divided in "Prometheus" promo video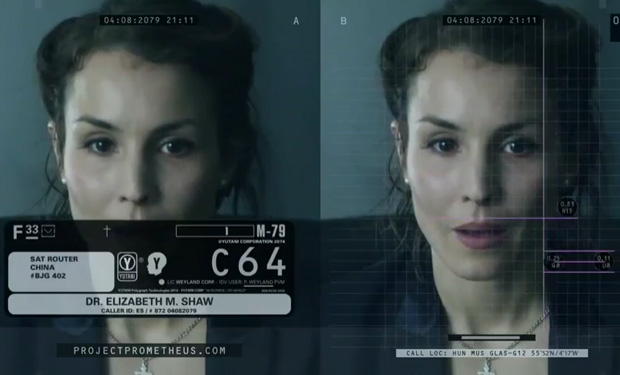 Posted by Rick Marshall on
With the June 8 premiere of "Prometheus" fast approaching, the marketing machine for Ridley Scott's highly anticipated sci-fi film appears to be in overdrive, with new images and videos arriving online almost daily.
One of the latest promotional videos to hit the 'net is a clever little clip featuring Noomi Rapace as Dr. Elizabeth Shaw as she campaigns for a spot on Weyland Industries' "Project Prometheus" team. The video is titled "Quiet Eye," and debuted as part of Verizon FiOS' partnership with the film.
In the video, Rapace's character lists her multiple doctorate degrees, then insists, "This is not who I am. It is simply what I know."
"I make the distinction, sir, because there is a difference between what a scientist knows and what they believe," continues Rapace. "Do you feel that all the science in the world will never give us the answers we really want? Where we came from? Whether or not we're truly alone? I believe there's a place where every one of those questions could be answered. I believe I know where that place is. I need you to get me there."
At this point, anyone who's been following along with developments on "Prometheus" probably has an idea where that place is, too — and one can't help wondering if Rapace's character would still want to go there if she knew what was in store for her.
Along with Rapace, "Prometheus" stars Michael Fassbender, Guy Pearce, Idris Elba, Logan Marshall-Green, and Charlize Theron. You can check out the Weyland Industries website for prospective applicants at projectpromoetheus.com/trainingcenter.
What do you think of this new promo video? Chime in below or on Facebook or Twitter.