Nathan Fillion talks "Firefly" and how proud he is of Joss Whedon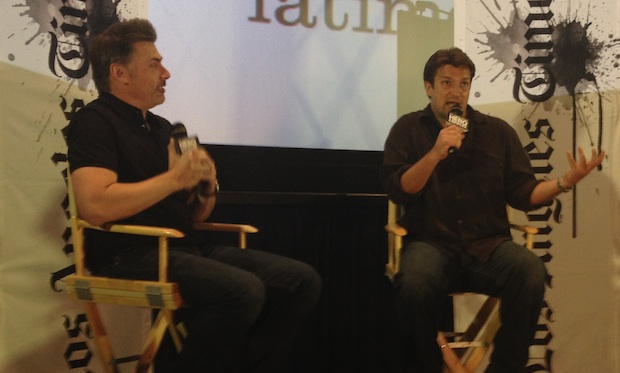 Posted by Terri Schwartz on
It was clear from the get-go that the "Serenity" screening that closed out the Hero Complex Film Festival on Sunday was the biggest draw to the fest. The event sold out within days of the line-up being announced, and the line for the screening started three hours prior to it beginning. With Nathan Fillion slated to come attend, fans had their "Firefly" shirts on and Whedonverse questions at the ready following the movie's big screen showing.
Like "Freaks and Geeks" and "Arrested Development," "Firefly" is one of those beloved programs that never quite found its audience on the small screen but has had an extended, passionate life on DVD. It was Joss Whedon's first post-"Buffy"/"Angel" TV series, and one that remains near and dear to his heart. After it was cancelled in 2003, Whedon was able to make a feature film called "Serenity" that came out in 2005 to cap off some of the unfinished storylines in the show. The movie didn't quite make back its $39 million budget in its worldwide release, but it was clear that it was created for Whedon's fans, not for profit.
Considering how popular Whedon has become now with the success of "The Avengers," Fillion made it clear how proud he is that his frequent collaborator is now a household name.
"I find it very, very vindicating, and I think you all will too, being that I think everyone here in this room is a Joss Whedon fan, I think that's fairly safe to say … we all know the man's a genius," Fillion said. "We all know how clever he is, and how he can really reach down and get you. Now everyone knows. And now these guys [executives] know too."
The two of them have worked together on "Dr. Horrible's Sing-Along Blog" and, more recently, Whedon's take on "Much Ado About Nothing." Fillion opened up about the experience shooting the project, saying that he almost backed out due to his inability to memorize his Shakespeare lines and his commitment to his ABC show, "Castle."
"With kind words of encouragement and 'don't worry about its,' [Whedon] would not let me chicken out," Fillion said. "Thank god, because I had a great time. It eventually clicked, and I had a great time."