New "Moonrise Kingdom" videos introduce Bill Murray, Bruce Willis, Edward Norton, and Wes Anderson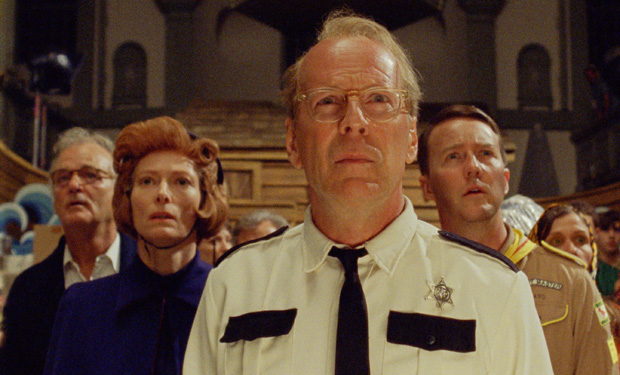 Posted by Rick Marshall on
Wes Anderson's upcoming movie "Moonrise Kingdom" looks to capture much of the trademark style and quirkiness that we've come to expect from the celebrated filmmaker, and with its Memorial Day Weekend premiere looming, it's no surprise that we're seeing some cool promotional elements pop up online.
Of course, it wouldn't be a Wes Anderson film if the aforementioned promotional elements weren't a little quirky, too.
Arriving online this week, four new "Moonrise Kingdom" featurettes offer an introduction to cast members Bill Murray, Bruce Willis, and Edward Norton, as well as the director himself. Each of the featurettes is narrated by Bob Balaban, who gives the audience a humorous, behind-the-scenes look at each of the actors and filmmaker on the set.
The featurettes also offer a little more information about the plot of the film, which follows a small island town's efforts to locate two young children who have run off together.
Here are the four featurettes, featuring an introduction to Bill Murray, Bruce Willis, Edward Norton, and Wes Anderson, respectively:
"Moonrise Kingdom" opens May 16 in limited release.
What do you think of these featurettes as an introduction to the film? Chime in below or on Facebook or Twitter.