HCFF: Rick Baker on designing the "Men In Black 3" aliens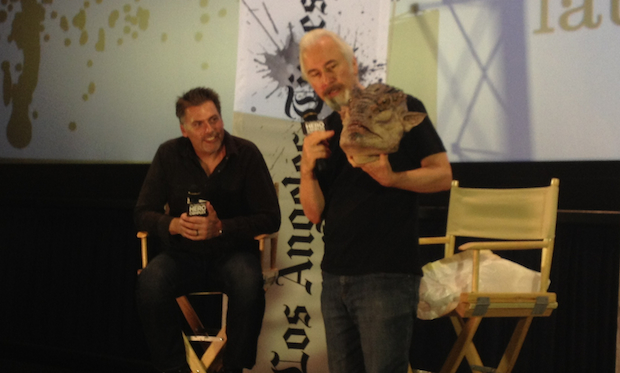 Posted by Terri Schwartz on
You know who Rick Baker is even if you've never heard his name. The legendary make-up artist is responsible for the look of characters and creatures in movies like "An American Werewolf in London," "Harry and the Hendersons" or "Men in Black" — or, you know, watched Michael Jackson's "Thriller" music video — then you've seen some of Baker's amazing creations.
He took the time to swing by the Hero Complex Film Festival on Saturday in a surprise appearance, bringing along one of his "Men in Black" alien masks to show off to the audience. With "Men in Black 3," his latest endeavor, hitting theaters on Friday, it wasn't much of a surprise that talk turned to that movie.
"The 'Men in Black' movies have a lot of things in them, and sometimes they don't all make it to the screen. On 'Men in Black 3,' we made 127 aliens on last count, so that's a lot of work. That's a lot of fun," he said. "What's cool about 'Men in Black' is I get to do a little bit of everything that I do on all these other films. I mean, we have like likeness makeups, we have crazy aliens, we have puppets and animatronic things. They're just a blast to work on."
Baker has plenty of good stories to share from the sets of his many projects, but our favorite was his tale about the making of "Thriller." He's the man who's responsibly for the "werecat" creature that Jackson turns into at the end of the video — an image that has gone on to be almost as iconic as the "Thriller" dance. Baker said that it wasn't until he was watching the music video film in front of him that he realized how huge it was going to be.
"One of the main memories I have is actually standing in the middle of the night in Vernon, which is downtown Los Angeles," he said. "I was standing there and it was Michael Jackson and all the zombies that we had just made up doing the 'Thriller' dance for the first time, and all of the sudden — up until that point it was craziness in trying to get all this stuff made up and I had all these people to get made up and it was this crazy beat-the-clock thing — and all of the sudden I just sort of saw this and I was like, 'Oh my god, look at what I'm witnessing here.'"
One audience member asked Baker what his favorite creation he's ever made was, and his answer shouldn't surprise fans of Baker's work.
"I usually say Harry from 'Harry and the Hendersons' is one of my favorite creatures that I've done. I quite like Harry and feel that he holds up really well," Baker said. "I mean, that was made in the '80s and I feel you can show that movie today and people would still accept it. That's the one I usually say."
In terms of effects that other people have done, Baker said that the work his protégée Rob Bottin did on "The Thing" is some of his favorite make-up design around.
"We used to sit and talk about, 'Wouldn't it be cool to do this and wouldn't it be cool to do that,' and then Rob ended up doing 'The Thing' and did everything that we ever talked about times a hundred," he said. "I think the stuff in John Carpenter's 'Thing' that Rob did is outstanding. That's still the quintessential make-up effects movie."
Are you intrigued by Baker's take on the movie-making process? Tell us in the comments section below or on Facebook and Twitter.