HCFF: Malcolm McDowell discusses the legacy of "A Clockwork Orange" and Stanley Kubrick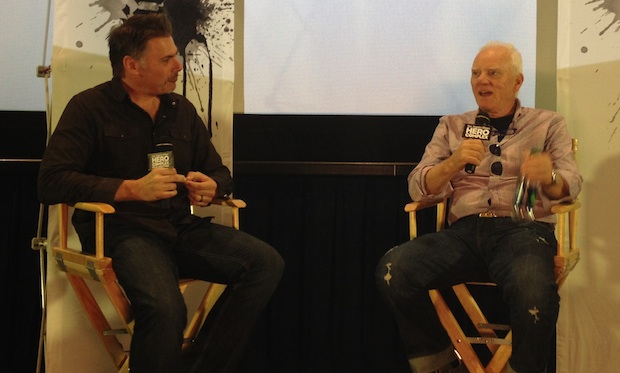 Posted by Terri Schwartz on
It's been 50 years since Anthony Burgess released his dystopian novella "A Clockwork Orange," and 41 years since Stanley Kubrick released his beloved adaptation of the classic work. In the time since, the film has become one of Kubrick's most famous movies, standing high in the ranks among "The Shining," "2001: A Space Odyssey" and "Full Metal Jacket."
Attendees of the Hero Complex Film Festival screening of the movie on Saturday were lucky enough to be treated to a Q&A following the film with star Malcolm McDowell. The 68-year-old still fondly looks back on the project that ended up being his most famous work in his career, and the director who brought that greatness out of him.
"The great thing about Kubrick is that he took on pretty much every genre of filmmaking and made a masterpiece, which must have pissed off a lot of his contemporaries," McDowell remembered fondly of his director, who passed away in 1999. "He did amazing things."
Kubrick is now considered one of the most famous filmmaking geniuses of all time, but McDowell said that it was hard to see him that way at the time of filming "A Clockwork Orange."
"I never could consider him to be a genius because how can you work with a genius? You can't," McDowell said. "In retrospect of course he's a genius I suppose because of all the movies he'd done. I didn't have them in my mind; you know, I'd just seen ['2001: A Space Odyssey']. I didn't see 'Strangelove' until later, thank god."
It's sort of strange that a movie as divisive and extreme as "A Clockwork Orange" would have such a strong life nearly half a century after its release, but McDowell credits that to its strong source material.
:"Why does is this movie still relevant today? No movies last 40 years. And it's an extraordinary achievement on Burgess's part that he wrote this dense extraordinary novel about a universal subject," he said. "Kubrick — you know, it's the perfect storm. To get someone like Kubrick with his vision and his extraordinary eye, the look of a movie was sort of light years against of everything."