New "Magic Mike" trailer teases a story that's more than stripping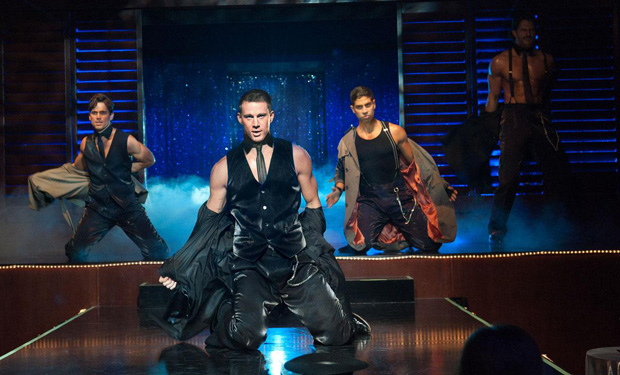 Posted by Terri Schwartz on
It's obvious that director Steven Soderbergh saw something special in Channing Tatum's story of his time as a male stripper in Florida. And, thanks to the new UK trailer for "Magic Mike," we're starting to see it, too.
Though the marketing campaign is definitely putting the stripper angle forth as the reason for audiences to come see the movie, it's clear that there's much more to the story than just a bunch of hunky actors dancing without clothes. We get a tease of that in the trailer when Cody Horn's character asks Tatum's titular Magic Mike why he strips.
"Why?" he answers. "Well, for girls, money and fun, of course."
This is definitely a different perception of stripping in movies than we've ever seen before, especially since most movies focus on female strippers. "Magic Mike" seems to be more lighthearted than "Boogie Nights" was, but we have a feeling that we'll see a lot of comparisons between those two stories once "Magic Mike" hits theaters on June 29. As history has told us, Tatum (the person who Alex Pettyfer's character is based on) went on to leave the stripping industry and head to Hollywood. But what pushed him to do so? We'll have to watch the movie to find out.
Other than Tatum, Pettyfer and Horn, the actor we see the most of in this trailer is Matthew McConaughey. Somewhat unsurprisingly, he looks like he is going to be fantastic in his role as the nightclub's head honcho. From what he's said in interviews, his big strip tease is supposed to be a bit wild. The other two main men in this film — Matt Bomer and Joe Manganiello — don't get as much face time, though we do get to see plenty of their dance routines.
We definitely aren't writing "Magic Mike" off as a chick flick just yet. Between our love for Soderbergh and our growing respect for Tatum's acting abilities, "Magic Mike" is definitely one of the movies we're most intrigued by this summer. (Okay, except for "Prometheus," of course.)
What did you think of the new "Magic Mike" trailer? Tell us in the comments section below or on Facebook and Twitter.