Mark Millar says "Kick-Ass 2" will start filming in two months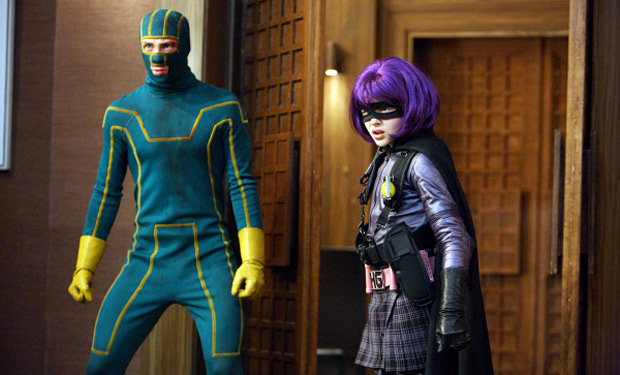 Posted by Terri Schwartz on
With "Kick-Ass 2" lined up with a new writer/director, it seems like the project is headed full steam ahead into production. But it turns out that that has been the case for a while now, according to "Kick-Ass" creator Mark Millar.
"['Kick-Ass' director] Matthew Vaughn chose the director about 18 months ago secretly because he knew he wasn't going to be doing 'Kick-Ass 2,'" Millar explained in a new interview with Digital Spy. "[New director] Jeff Wadlow had been talking to Matthew about doing this move 'Bloodshot' a couple of years back and Matthew was really impressed with his script. He'd done a couple of movies on a small budget, and Matthew was like 'trust me, this is the guy'."
So not only has Wadlow been on board as director for a while, but he, Millar and Vaughn — who's still involved with this project, albeit not directing it — have been developing "Kick-Ass 2" for three quarters of a year.
"The three of us have been talking seriously for about eight months, and Jeff turned in a final draft of the screenplay about eight weeks ago," Millar continued. "It's in really nice shape to start shooting in eight or nine weeks' time."
Millar goes on to say that the first act (a good 30 minutes) of "Kick-Ass 2" will be based on the material in his comic book "Hit-Girl," and the last 70 minutes will be taken from "Kick-Ass 2." And even though "Kick-Ass" altered some elements of its source material, don't expect any of those famously terrible scenes to be left out of its upcoming sequel.
"Every horrible scene in the book will be in the film," Millar promised. "The c–t line in the first one, everybody said 'there's no way you're getting that in the movie', but it happened and it's the same thing with this. Everybody is saying 'you can't have a gang rape scene with supervillains' and 'you can't have the dog's head cut off', but every single one of those scenes will go in it."
Wondering about the long-awaited "Kick-Ass 3" graphic novel? Millar promised that it's still on its way, and it will wrap up his "Kick-Ass" saga.
"The third book of Kick-Ass is the last book, there won't be any more after that. Even though it's the biggest book I've ever done, I've really always thought there's an end in sight, so I plan on finishing it in a year's time," he said.
Millar continued about the set-up for the book, "It's basically illegal to wear a costume at this point, so that's quite interesting. I used to love Marvel Comics where the cops were chasing superheroes, seeing them as menaces because they're not licensed in any way. So I kind of like the idea of bringing that back, because in reality there's no way a cop or a fireman is going to let a guy in a suit run into a building."
Are you looking forward to "Kick-Ass 2"? Tell us in the comments section below or on Facebook and Twitter.