Judy Greer on "Arrested Development": People are talking about bringing Kitty Sanchez back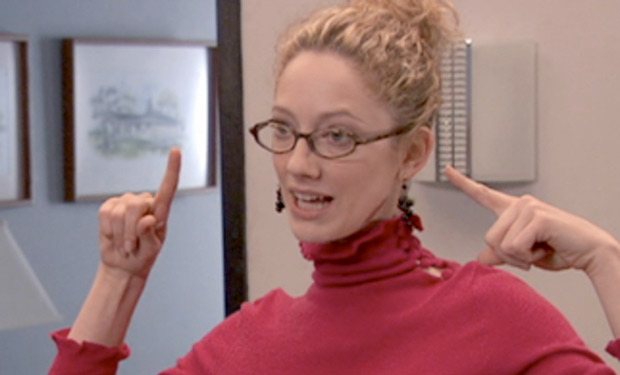 Posted by Terri Schwartz on
The new season of "Arrested Development" is happening. There's visual proof it's being written, which at least to us makes the announcement it's happening seem all the more official. And with the entire fourth season to be released at once on Netflix, that's all the more reason to be excited for 2013.
When we heard that Judy Greer was going to be at the DVD release party for "Jeff, Who Lives At Home," we knew we wouldn't let her get out of the Basement Tavern in Santa Monica without asking at least one question about "Arrested Development" and the potential return of Kitty Sanchez. When we last spoke to her, Greer said that no one had talked to her about coming back to the show yet. Unfortunately that hasn't changed in the two and a half months since, but Greer did say that "people are talking to people" about her reprising her role.
"Not this people, but some people," she joked. "People have talked to other people about me, and that's real. No one has talked to me, but like, yeah, people are like, 'Oh don't worry.' Someone was like, 'Oh, I talked to so and so and they were like, don't worry, she's going to be in it,' but I always say that unless I'm in the movie theater at the premiere watching my face on a fuck-off screen…"
But would Greer want to come back if creator Mitch Hurwitz would have her? That, to her, was a no brainer.
"Oh, yeah," she said, adding that it would be no different than when she would film on "Arrested Development" before. "They'd be like, 'Can you come in to work tonight?' I'd be like, 'Yes, where are you shooting?' 'In Piru, can you be here in an hour?' 'Yeah, I'm at dinner. Like, I'm drinking.' 'It's fine, it's fine, we just realized we have to have you in this scene.' They were just kind of awesome."
When we heard that Scott Baio was going to be reprising his role as Bob Loblaw in the fourth season of "Arrested Development," we immediately rushed to pull together a list of 10 other characters we'd love to see head back to the small (computer) screen in the upcoming episodes. Kitty was of course at the top of the list, but we wanted to find out who Greer, as a fan, felt should return.
"Annyong. I mean, is he even secondary?" she was quick to answer. "You know how that Michael's girlfriend [Marta Estrella] who was a Latina actress, but then it was one actress and then another actress replaced her? I feel they should have both actresses back. I feel that needs to happen."
This awesome idea just confirms our belief that Greer should take over writing for the show. After all, when we last talked to her she admitted that she wanted Kitty to come back with all the Bluth secrets that she had been hoarding over the years and "take down the Bluths." This time, she had an even more hilarious scheme set up for the former Bluth Company secretary.
"I also think I should be pregnant with one of their babies. Mystery baby," she said. "I feel like Kitty should have all the secrets that takes them down, but we'll see what they decide."
Do you think Kitty Sanchez should return in the next season of "Arrested Development"? Tell us in the comments section below or on Facebook and Twitter.