Joss Whedon wasn't responsible for "The Avengers" most tragic scene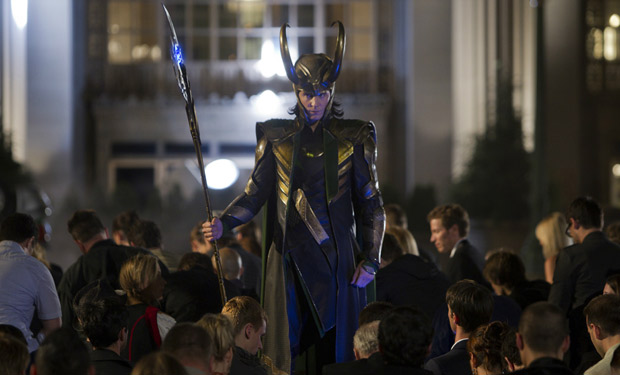 Posted by Terri Schwartz on
Just as a warning, major spoilers are about to follow if you have yet to see "The Avengers."
You know how a certain someone dies in "The Avengers"? Well, apparently it wasn't Joss Whedon's fault.
The fan-favorite director has become infamous for killing off his characters in his projects. Wash in "Firefly." Spike, Buffy's mom, and like a million other people in "Buffy the Vampire Slayer." Penny in "Dr. Horrible's Sing-Along Blog." Kitty Pryde in "The Astonishing X-Men." The list goes on.
But the one death he's not to blame for is spoiler alert Agent Phil Coulson. That's all Marvel Studios president Kevin Feige's fault.
"In our first meeting Kevin Feige said, this is what we're gonna do and I said, 'Oh but you have to go out there and tell everybody that it was your idea because this is going to get me so much shit. Because they are all going to be like, "Oh he did it again!"'" Whedon said in a new interview with io9.
He continued, "It was stipulated from the beginning, and I completely agree that it was the right thing to do, and so did Clark. Who said in the early days, when I was busy apologizing for it, 'In a movie like this, with what's going on if there isn't some toll, it's just irresponsible story telling.'"
It's funny that Whedon knows his own persona, because several people did make comments to me prior to seeing "The Avengers" that were along the lines of, "Of course someone dies, it's a Joss Whedon movie." Even if Whedon isn't to blame for the death of Phil Coulson (which I agree was definitely necessary to the movie), he at least gave it an appropriately affective Whedon emotional punch to the gut. Coulson's final action! Those Captain America trading cards! Whedon might not have been the man to say Coulson had to go, but at least he sent him off in a fine style.
Did you think Whedon was the one to decide Coulson must die? Tell us in the comments section below or on Facebook and Twitter.