"Iron Man 3" gains new villain, plus Jon Favreau may return as bodyguard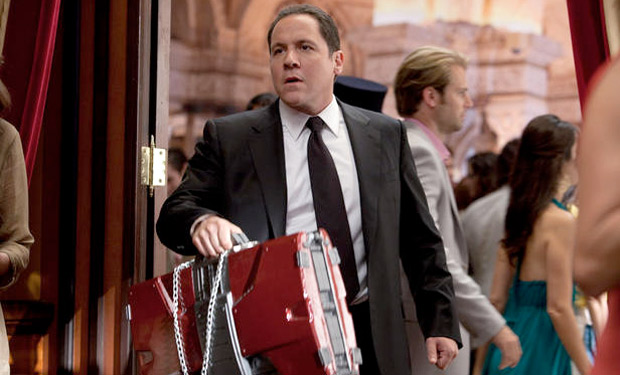 Posted by Terri Schwartz on
"Iron Man 3" has found yet another villain.
Variety is reporting that Ashley Hamilton is joining the movie as the villainous Firepower, who will join the ranks of previously announced Big Bads Maya Hansen, Aldrich Killian and the Mandarin (in some form). Firepower's inclusion in the story actually makes a lot of sense, as he teams up with the Mandarin at one point during the "Iron Man" comics.
In addition, Variety's report further confirms that "Iron Man 3" will borrow heavily from Warren Ellis' six-issue "Iron Man: Extremis" comic, and that it will focus "on the spread of a virus through nanotechnology."
So far we know that Hansen and Killian are developing the Extremis serum, and we speculate that Mandarin will likely get his (or its) hands on it, wreaking some havoc on Iron Man. But this news of Firepower's casting seems to imply that the focus of this movie will rather be on the Armor Wars. With Hansen and Killian trying to create super soldiers with their Extremis serum and Tony Stark's rival Edwin Cord creating an experimental pilotable suit for Project: Firepower that he ends up turning against Iron Man, it seems like the suited superhero is in for a rough time in "Iron Man 3." It's also worth noting that, in the comics, Firepower teams up with the Mandarin after one failed attempt on Iron Man.
In other Marvel casting news, The Hollywood Reporter has learned that Jon Favreau will be returning to the franchise as Tony Stark's employee, Happy Hogan. There had been some concern that he would not be back for the third Iron Man film because of his departure after number two, but this news — and his producer credit on "The Avengers" — prove that there's no bad blood in the transition to new director Shane Black.
"Iron Man 3" stars Robert Downey Jr., Gwyneth Paltrow, Don Cheadle, Rebecca Hall, Guy Pearce, Ben Kingsley and James Badge Dale. It's due in theaters on May 3, 2013.
Are you intrigued by these two new casting announcements? Tell us in the comments section below or on Facebook and Twitter.