Wyatt Cenac and Todd Barry to headline IFC and BAM's live comedy showcase "Get It Out There"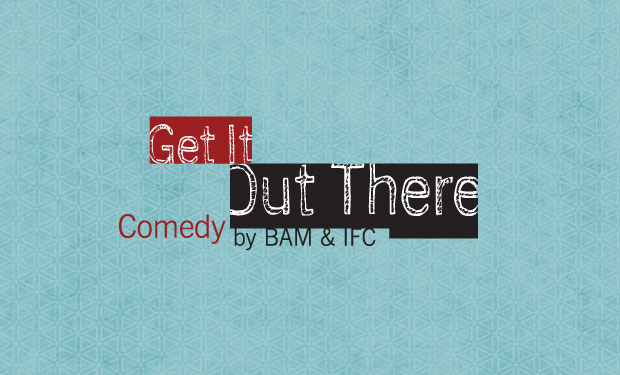 Posted by Melissa Locker on
After last month's exciting and successful inaugural event, BAM and IFC couldn't wait to announce the lineup for the second installment of Get It Out There: Comedy by BAM & IFC. But with comedy greats like Wyatt Cenac and Todd Barry on the calendar, can you blame them?
In case you missed the hubbub over the initial event, Get It Out There: Comedy by BAM & IFC is a new comedy showcase that we are putting on, because we love to point and laugh as much as we like to point and click. And after the success of the inaugural showcase, we know you do too. The April 25 show featured Wyatt Cenac (Comedy Central's The Daily Show with Jon Stewart), Mike Lawrence (TBS' Conan), Damien Lemon (Comedy Central's Russell Simmons Presents The Ruckus, MTV2's Guy Code), and Giulia Rozzi (VH1, Stripped Stories) and was hosted by Jared Logan (John Oliver's New York Stand-Up Show). During the showcase the comics were encouraged to experiment with humor and get as reckless and crazy as possible as they tested out new material and probed the depths of their twisted souls for new forms of funny. It was a rousing success, if you're into that sort of thing, which we assume you are.
So join us when Get It Out There returns Wednesday, May 30 at 9pm (yes, the bar opens at 8pm) in the BAMcafé (30 Lafayette Avenue, Brooklyn, NY). The show is free and open to the public. Curated by Caroline Creaghead (Creaghead & Company), the second installment features Todd Barry (Comedy Central presents Todd Barry), Kate Berlant (Crime and Punishment at Cake Shop), Kurt Braunohler (IFC's Bunk), and Wil Sylvince (HBO's Def Comedy Jam, BET's ComicView), hosted by Greg Barris (MTV's Warren the Ape). Get It Out There returns five more times throughout the year, on June 27, September 12, October 3, November 7, and December 5, and each comedy night features a rotating roster of comedians.
For more information, visit our site here.
Brooklyn Academy of Music's (BAM's) mission is to be a home for adventurous artists, audiences, and ideas. America's oldest performing arts institution, it is recognized internationally for innovative dance, music, and theater programming—including its renowned Next Wave Festival. BAM also features an acclaimed repertory film program, literary and visual art events, and extensive educational programs. The institution is led by President Karen Brooks Hopkins and Executive Producer Joseph V. Melillo. www.BAM.org