Exclusive premiere: Hilary Hahn & Hauschka "Bounce Bounce"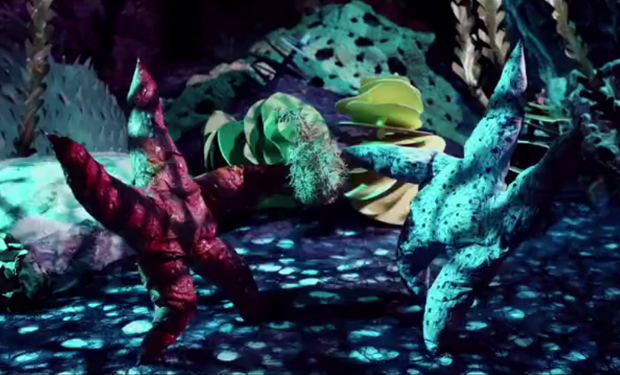 Posted by Brandon Kim on
Grammy winning American violinist, Hilary Hahn, and German modernist composer, Hauschka (a.k.a. Volker Bertelmann) met in Iceland to  combine their genius at a place where the North American and Eurasian tectonic plates collide. The result is the collaborative album "Silfra," which features Hahn's acclaimed talents (she's been hailed as one the greatest violinists in the world) and Hauschka's prepared piano — internally transformed by gaffers tape, bottle tops, bells and all manner of found odds and ends — which create mini rhythm sections within the classic instrument as he plays it.
It's music to be inspired by, and stop-motion animator and director Hayley Morris' video certainly was. It's her creations and this handmade underwater wonderland with "Bounce Bounce" as it's score that I most fell in love with. "I really wanted to capture the energetic and spontaneous feeling of the song itself, and honor the collaboration between Hilary Hahn and Hauschka," Morris told us. "When Hauschka performs he takes different recognizable objects and places them into his piano to alter the sound. I wanted to take the same approach as the music's creation and have the materials themselves create a narrative and look."
video player loading
.
.
.
Morris found her materials hidden in drawers at antique stores and pining for her life giving touch in bins at flea markets around her Brooklyn neighborhood. Crocheted doilies turned into coral creatures. Scraps of fabric formed into two crabs fighting over a wayward snail, and flamboyant starfish dancing with/dueling over a found morsel. The rest of the world was rendered in paper mache, knitting and other hand made brilliance. A wooden bird was born of driftwood she collected over the years.
"For each scene I animated about 10 objects at once frame by frame including the shadows that move across the shot," Morris emphasized. "I like my work to be tactile and textured and for my art work to pick up the light in interesting ways." She used no computer effects whatsoever, but created her own. She added atmosphere by shooting glitter floating in water which when applied to the final cut, create depth and little twinkly floaties that occasionally catch the eye.
Morris thought there was a tidal feeling to the song and gave her own adorable take on it. "When I first heard the song I immediately thought of tide pools. Every summer I would go to the coast of Maine and I was always fascinated by the miniature worlds I could find," she said. "There are so many different creatures and plants compacted into such a small space and I thought it would be an interesting environment to focus on… . It's timing and feeling is constantly changing and I felt I could choreograph the underwater world beautifully to the song."
Hahn & Hauschka's "Silfra," which is also the name of the rift near Reykjavik (a diver's paradise) where those two tectonic plates meet, will be released May 22nd on Deutsche Grammophone.
Feel like dancing with starfish now? Let us know in the comments below or on Twitter or Facebook!