"G.I. Joe: Retaliation" moves to 2013 for 3D conversion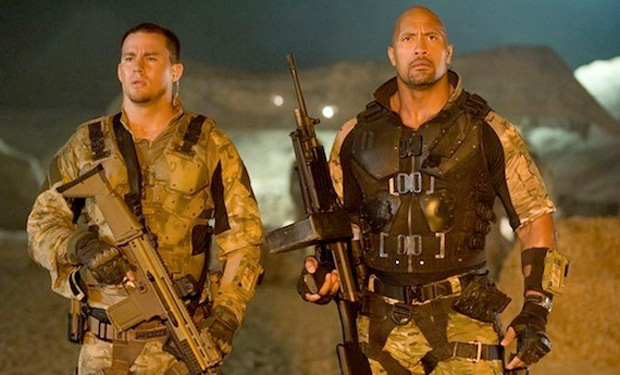 Posted by Terri Schwartz on
We were happy enough just to see "G.I. Joe: Retaliation's" epic ninja cliff sequence on the big screen. But now it seems like we're going to have to wait eight months more so we can see it in 3D.
The Hollywood Reporter has learned that Paramount Pictures has opted to push "Retaliation" back from its June 29 release date to a March 29, 2013 release instead. In the time in between, the studio plans on doing a total 3D conversion.
This decision make sense, but it still has us rolling our eyes. Considering the way "The Avengers" is dominating the box office right now and "The Amazing Spider-Man" will likely do the same when it comes out on July 3, "Retaliation" won't get much of a chance to flex its muscles on the big screen before bigger movies steal it's audience. This summer's blockbuster season is pretty crowded, and it is a smart move for Paramount to move "Retaliation" back to a later date when it can get more attention.
But it's a shame that they had to wait so long to do so. "Retaliation" was generating a great buzz with fans and it really did look great. That's why the news that the movie is going to be post-converted into 3D when it wasn't planned on being shown that way has us really nervous. As one person said on Twitter, what is this, 2010?
It's clear that this choice was made with nothing but dollars in mind. Movies like "Titanic," "Star Wars Episode I: The Phantom Menace" and "The Lion King" all made plenty of money when they were rereleased in 3D, making studios think that audiences are willing to give the medium a shot again. And with big budget movies like "John Carter" and "Battleship" being massive box office disappointments, it makes sense for studios to be cautious.
But we'd rather have them move "Retaliation's" release date back to August, at the tail end of the summer movie season, and just skip the 3D altogether. Because, really, when has watching a movie in three dimensions ever made you forget that you were watching a movie? In our experience, it's been never.
Are you disappointed "G.I. Joe: Retaliation" is being moved back? Tell us in the comments section below or on Facebook and Twitter.