"Cosmopolis" clip shows Robert Pattinson's romantic prowess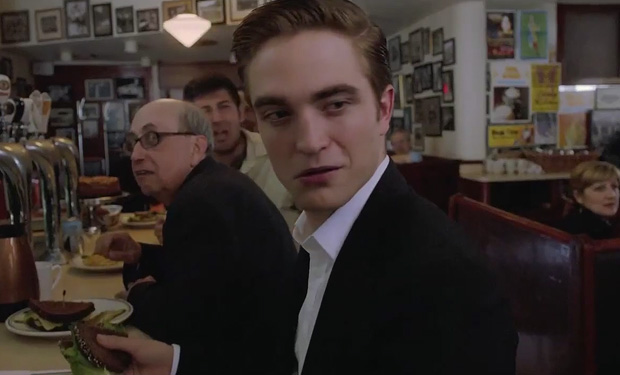 Posted by Terri Schwartz on
If you had your doubts about David Cronenberg choosing Robert Pattinson to play the lead in his upcoming film Cosmopolis, now's the time to put them at ease. A new clip from the movie has hit the web courtesy of Allocine, and Pattinson shows in it that he has the stuff to do… well, whatever Cronenberg has to offer.
This scene focuses on Pattinson's character Eric Packer interacting with a young woman played by Sarah Gadon. They presumably met in the bookstore they're talking about in the clip, and Pattinson repeatedly tries to get her to have sex with him at the hotel across the street from the restaurant they're in. She turns him down, and then two men who walk in holding dead rats chanting, "A specter is haunting the world" interrupt their lunch at the restaurant.
This scene was teased in the previously-released teaser trailers, but it's nice to see it in its entirety. The film looks to be one of the most intense, violent and sexual projects Cronenberg has done in a while, and this clip teases the steady burn that will likely lead up to the explosion of insanity we've seen snippets of in the trailers.
Based on the Don DeLillo novel of the same name, "Cosmopolis" is the somewhat surreal story of a young New York City billionaire on a daylong mission to get a haircut. Along the way, he has sexual encounters, cheats on his wife, deals with his daddy-issues, and finds out about a plot to assassinate him.
In addition to Pattinson and Gadon, the film stars Paul Giamatti, Juliette Binoche, Mathieu Amalric, Samantha Morton, Jay Baruchel, Kevin Durand and Emily Hampshire. It's due in theaters in France on May 23 and doesn't yet have a US release date.
What do you think of this new "Cosmopolis" scene? Is Pattinson better in it than you expected? Tell us in the comments section below or on Facebook and Twitter.