"Contagion" writer tapped for "Rise of the Planet of the Apes" sequel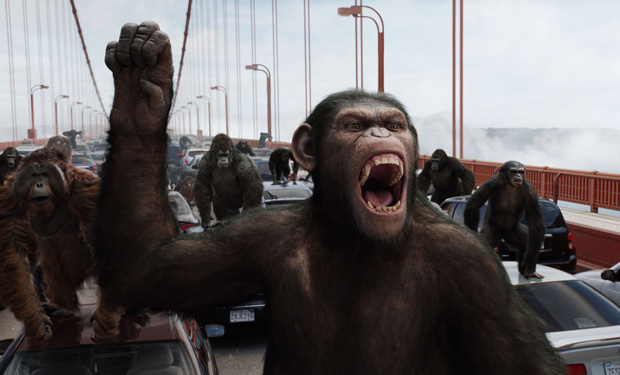 Posted by Rick Marshall on
The devastating aftermath of last year's "Rise of the Planet of the Apes" will get a story authored by someone well-versed in the world of apocalyptic scenarios.
"Contagion" writer Scott Z. Burns has been chosen to script the sequel to the critical and commercial 2011 hit "Rise of the Planet of the Apes," which served as both prequel and reboot for the "Planet of the Apes" movie franchise. The sequel will explore the simians' ascension as society's ruling class, according to a recent report on Heat Vision.
"Rise of the Planet of the Apes" director Rupert Wyatt is signed to return for the sequel, and so is celebrated motion-capture actor Andy Serkis, who played lead ape Caesar in the first film. The first film's writers, Amanda Silver and Rick Jaffa, will also return for the sequel and assist with the script.
The outcome of the virus that erupted in the first film and the rise of the intelligent simians should be familiar territory for Burns, whose script for Steven Soderbergh's 2011 film about the global spread of a deadly disease had audiences cringing and reaching for hand sanitizer. Burns also worked on "The Bourne Ultimatum," so there's some action on his resume to go along with the apocalyptic doom scenarios.
"Rise of the Planet of the Apes" was one of the surprise hits of last year's movie calendar, earning over $481.8 million worldwide in 2011 on a budget of $93 million. The film was also the subject of a vocal campaign to have Serkis honored for his motion-capture work at the most recent Academy Awards.
What do you think of bringing on the "Contagion" writer for the "Rise of the Planet of the Apes" sequel? Chime in below or on Facebook or Twitter.