Chantal Claret talks Bond theme songs, zombies, and how her daddy killed a man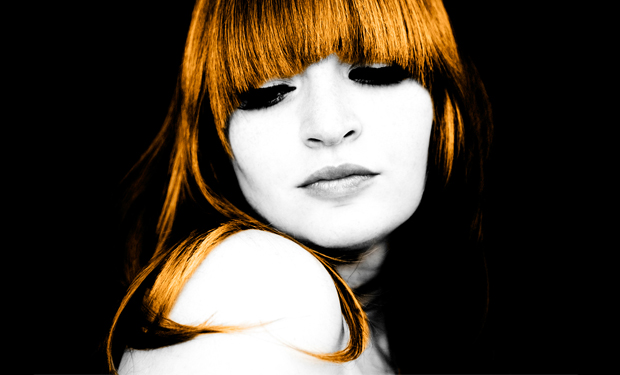 Posted by Brandon Kim on
The first song Chantal Claret wrote after departing as the singer of Morningwood, was the chronicle of a hedonist that Nancy Sinatra and Tina Turner would equally appreciate. The crisp 60's vibe with a huge low end sets "The Pleasure Seeker," a daring song about her own father, in a direction 180 degrees from her previous work, but it's the direction Claret always intended to go.  It was something of a long shot too, she couldn't find anyone who could mix the record until she sent an email to the general address listed on Mark "Exit" Goodchild's (Erykah Badu, Cee-Lo) website. Amazingly, within a few hours, she'd won Exit over with her raw material and he was all in.
Claret's previous "major label fiasco's" drove her to seek creative satisfaction elsewhere (and new indie label), and she's finally making music the way she's always wanted to — as the bad girl of blue-eyed soul. I talked with her about her love for 60's music and at extreme length about film, her other passion, during which time she gushed about "Labyrinth" and David Bowie. "Hells yeah, that's the one acceptable use of spandex in the world, David Bowie's pants!" she raved, accurately. I know she wouldn't mind living in "A Hard Days Night," eternally following the Beatles around either. She also proclaimed her undying love for "Meatballs." It was a discussion about Bond movies though where we stumbled on a take away meant for one Daniel Craig. Chantal Claret's record comes out June 19th on The End.
This is all such a big departure from Morningwood  and what you were known for in the past, how did you come to such a musical reinvention?
Musically it is yes, but this is 100% me.  This is the type of music I grew up listening to. Since I was 15, I would go out to mod clubs — I was a self proclaimed mod — I was in a short film called "American Mod" [laughs]. So I grew up dancing to 60's music, if anything, it's Morningwood that was weird for me. The 80's inspired pop tunes were a switch for me. This is me with no filter.
The song, "The Pleasure Seeker," is actually about your Dad?
Yeah it's about my Dad [laughs]. It's not the most becoming song in the entire world, so I was absolutely petrified about playing for him, like shitting my pants petrified.  And he flipped! He plays it for everyone. There's a line in it, "a skinny little woman is gonna be your fatal flaw," which is not a compliment. And that is a quote from him, "a skinny little woman is gonna be my fatal flaw," he said. That's not an awesome thing to admit, but he called up one of his girlfriends at the time and was like, "there's a line about you in it!"
You even sing, "don't tell him about this, 'cause it'll go to this head."
Yeah!  I mean, he's a character. And I had a lot of issues with him, you know? I wrote a couple songs about him in Morningwood too, and he always seems to take it as a compliment, which is funny, 'cause none of them are that nice. But ultimately, I think he looked past all the negatives and saw the underlying message that, I love him, I do. He's my dad.
How did he kill a man, or is that a little tongue-in-cheek?
No, it's a true story, and he took really big pride in it. My father was an art dealer. He told me this whole long story about how a man committed suicide and he thinks he had a part in it, because my dad was telling him stuff. It was horrifying to me.
He talked a man to his death?
He didn't talk the man into it, but the man was so depressed and my Dad definitely didn't, you know, help. It wasn't like, Kevorkian or a mental coercion scenario.
Art dealers, you say? Maybe we shouldn't say more.
Yeah, my father is an art dealer, or was an art dealer. There's a lot of shady stuff in the art world.
Are you a fan of "The Walking Dead?"
Yeah! I'm actually friends with Rooker, he's on it. Michael Rooker [who is rumored to return for season 3].
Right I heard that, and some of the inspiration for "Pop Pop, Bang, Bang" came from shooting guns with him?
Yeah, I took my husband for his birthday, on his private range. We were doing crazy stuff, like walking and shooting and we got out this stuffed animal that we had in the back of our car, and we were shooting it [laughs]. I love guns, I always have. It's such a great sport, I don't have any in my house but, I gotta say everybody looks cool with a six shooter…. so he took us shooting and he was saying all this cool gun slang. Ultimately when I was writing, I called him and I was like, hey tell me all that stuff again. But he went into this whole history of guns and .22's, and proper terminology, and I was like you're talking too much Rooker!  So that's why it ended up just being, "Pop Pop, Bang, Bang."
What's your favorite gun?
A .22! I love me some classic old school, six shooter lookin' .22. It's bad ass and I love wearing a holster.  I wear a holster as a — I put my microphone in my gun holster.
There's a weird convergence here, with six shooters and zombies and that connection to the show and you — where did the idea behind the video come from?
Yeah, I'm not too specific if they were zombies or dead. All I know is I wanted them to be snapping their fingers and a little saucy. Basically my friend David Yarovesky, who directed it, [pitched it to me] like, "so there's all these dead girls in a hotel room." I was like, I'm in. We got a hotel room, and we got all these girls, and the biggest expense was those white contacts. We were so paranoid about going into this hotel with all these girls that were in zombie makeup because you are not suppose to be filming there without a permit. We had this big plan about how we were gonna get all the girls in the room and then we got there and every single person at the hotel was in costume — we shot at the week of Halloween on October 27th. So, one of the girls went to get coffee and they were like "oh you're here for the Zombie party?" And she was like, "Yes, yes I am."
[laughter] What do you think that's about?  Other than that being during Halloween, the video is a grim reminder of the zombie phenomena in our culture.
You know, vampires have been tapped out. So I just gotta go with zombies.  Plus, the impending 2012 end of the world. What's left…zombies.
There it is. Zombies.
Nothing can beat "28 Days Later" though, that's my favorite. Oh and IFC, [sings] I love IFC! I watch "Portlandia" and a ton of other shows! I went to the School of Visual Arts for a couple years, I wanted to be a director. So, I love me some movies.
And you directed some videos before, didn't you?
Couple, yeah. I did some stop animation ones, and some, like, lo-fi ones. Back when Morningwood was signed to different labels, I felt like my hands were tied. There are things contractually where you can't make music with other people and things like that. I would get so fucking frustrated! What the fuck can I do? And I'd be like alright, I'm gonna make a claymation video! I  do it when I get frustrated. I'm like, what can I do to do something creative where I'm not gonna contractually get in trouble?
If you could write a soundtrack to a film what would it be?
A classic Bond film, doing a Bond theme is in my top ten dreams!
What's your favorite Bond film?
"Goldfinger," I don't know! It's hard, I judge them mostly by the theme songs [laughs]. Pussy Galore's pretty awesome. Yeah, and Shirley Bassey. But I heard that Daniel Craig was a fan, he was a fan of my old band. So, I really want him to hear my new stuff.
There's an idea!
Uh huh! Ya heard me Daniel Craig!?
We found the writer of the next Bond theme. You hear that Daniel Craig? Let us know in the comments below or on Twitter or Facebook!