Bobcat Goldthwait on personal responsibility and his "anti-dummy" movie, "God Bless America"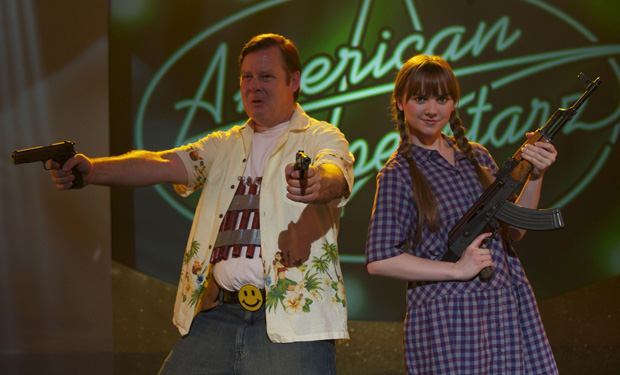 Posted by IFC on
By Jennifer Vineyard
Bobcat Goldthwait is back behind the camera with his latest dark comedy, "God Bless America," which is an indictment of stupidity, cruelty, and reality television, all of which inspire a killing spree when the lead character decides to shoot anyone and everyone he finds repellant.
"Some people think this is an anti-gun movie, but no, it's an anti-dummy movie," the director told IFC.
Frank (played by longtime Goldthwait collaborator Joel Murray) has an empty life, in which he's been diagnosed with a terminal illness, lost his job and family, and watches way too much television, mostly to drown out the noise of a crying baby next door. When he sees the selfishness and ignorance he hates on reality shows echoed in real life, Frank decides to eradicate it whenever and wherever he encounters it — whether it means storming the stage of a music competition show in which the judges are making fun of a William Hung-like contestant or killing people who are talking on their cell phone at movie theater. Other targets include Bill O'Reilly, Glenn Beck, Jeff Foxworthy, and Michael Jackson.
"Some people will really go off if you even mention Michael Jackson," Goldthwait said. "My take on the whole thing is that he was a perfect example of how people become ostriches. You're never going to stop child abuse if you deny it. He was a very talented singer and dancer, but he clearly had a lot of problems. I mean, even if he hadn't been inappropriate with children, I saw him dangle a baby out the window. That's enough for me."
In case you hadn't guessed, Frank is a surrogate for Goldthwait to express his own frustrations. "I am Frank without the homicidal tendencies," he said, laughing. "I am Frank in the sense that I have a naive view of the world, and I do wish people would be more nice and considerate."
Goldthwait said that he made a decision about fifteen years ago "not to participate" in cruel jokes or behavior in his comedy, no matter how lucrative it might be. "It's a stupid, dumb way to make a living," he said. "While some comedians have material that transcends that, and makes some valid points, there's just a ton who are only trying to continue their own fame, and I have no interest in doing that. It just seems pretty empty."
But Goldthwait doesn't expect any waves of self-recognition from the less nice or considerate in the audience who would be Frank's targets.
"It's a little late to retrain these people," he said. "There are just some people who can't apprehend how their actions affect other people, and that's the world we live in. I blame Madison Avenue. And I also blame parents who maybe just clapped too hard when their kids pooped. They're handing out trophies just because you were on a team."
But without such people, Frank would have no excuse for his killing spree. Nor would he have an excuse if he just changed the channel or turned off the TV.
"He thinks he's Holden Caufield with an AK-47," Goldthwait said. "But here's the thing: You could have a diet of listening only to NPR, or only watching stuff that you'd DVR-ed, so that you could control your intake. But you're still going to know about Charlie Sheen's breakdown. You might never watch anything related to Kim Kardashian, but you're still going to know about her."
"I don't have hostility towards those people — they're just attractive dummies," he continued. "But I do have hostility with the people who are obsessed with them and their fame. I sometimes think, 'Why do I need to know about this? I should get a dollar every time I hear Kim Kardashian's name!'"