"Beasts of the Southern Wild" trailer introduces us to the Sundance darling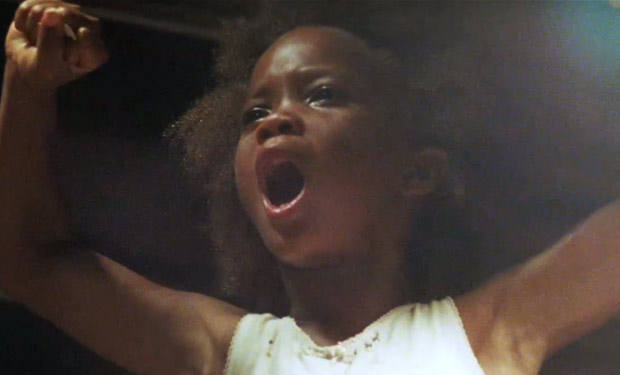 Posted by Terri Schwartz on
After blowing up at Sundance, picking up the Grand Jury Prize, "Beasts of the Southern Wild," is finally getting a release come June 27. In advance of that, we now have a trailer to remind us how amazing this film looks.
"Beasts of the Southern Wild" is set in a fictional area on the very southern edge of Louisiana called the Bathtub. It's set in a futuristic time where the edge of the US is going underwater, and the Bathtub is cut off from the rest of the world. The powerful leading lady's name is Hush Puppy, and the movie melds her real-life situation with her imaginative fantasies.
Here's the full synopsis of the film, if you're looking for some more information on it:
"In a forgotten but defiant bayou community cut off from the rest of the world by a sprawling levee, a six-year-old girl exists on the brink of orphanhood. Buoyed by her childish optimism and extraordinary imagination, she believes that the natural world is in balance with the universe until a fierce storm changes her reality. Desperate to repair the structure of her world in order to save her ailing father and sinking home, this tiny hero must learn to survive unstoppable catastrophes of epic proportions."
The movie got rave reviews coming out of Sundance, and this trailer does a great job teasing its real life and fantastical elements. Not to draw too many comparisons, but it seems to have some connections to "Pan's Labyrinth" and "Tree of Life" in there. In fact, I love how Peter Sciretta over at /Film called this movie everything he wanted "Tree of Life" to be.
Are you intrigued by "Beasts of the Southern Wild"? Tell us in the comments section below or on Facebook and Twitter.