Visual proof that new "Arrested Development" is being written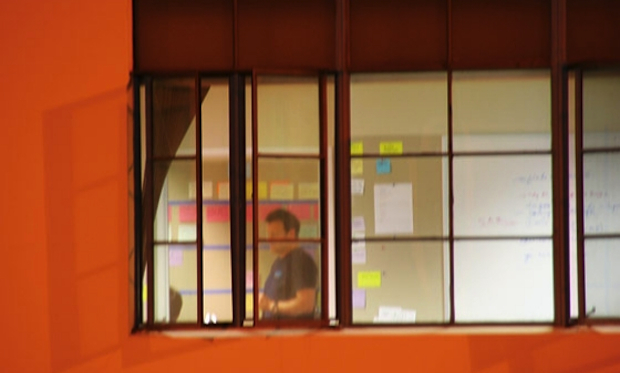 Posted by Terri Schwartz on
It's official. It's happening. New "Arrested Development" is being written.
Of course, we've had proof of this over and over and over again. But forgive us for our skepticism. This project has been kind of sort of in development ever since "Arrested Development" went off the air in 2006, and leading man Jason Bateman has been promising us a movie ever since he started doing press for "Juno" the year after. Needless to say, it didn't happen quite like he planned.
But now Netflix has officially picked up the show and creator Mitch Hurwitz has said he's busy writing a new season that will premiere all at once at some point next year. And thanks to the folks over at Vulture, we have some definitive proof that Hurwitz is actually working on the series.
The above photo was taken at 8 p.m. on Tuesday, May 7, above a sound stage on a studio lot in Culver City where the "Arrested Development" team has set up camp working on the show. When Vulture reached out to Hurwitz for comment, he confirmed that the image shows him working on new episodes.
"I was working in the room with the writing staff. We were discussing the Maeby episode," he wrote.
It sounds like maybe Hurwitz hasn't ditched the idea to have each episode center on an individual character to catch us up on their last few years. Does this mean the plan to have the new season lead up to a feature film is still underway? We'll have to wait and see.
Now please excuse us, we have some chicken dancing to do.
Are you as thrilled about this visual proof that "Arrested Development" is happening as we are? Tell us in the comments section below or on Facebook and Twitter.