HCFF: Andrew Stanton on Pixar sequels and Steve Jobs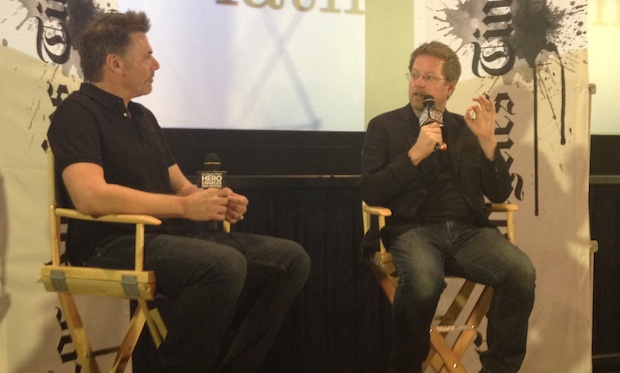 Posted by Terri Schwartz on
Stanton also talked about Pixar's shift to doing sequels. For a while, the only one of their movies that had a number two behind it was "Toy Story 2." That changed in 2010 when "Toy Story 3" came out, and then again last year with "Cars 2" (the only Pixar movie to earn a Rotten Tomatoes score). Some people credited that change to Disney's takeover of Pixar, but Stanton said it was actually an organic internal process.
"It's a tough one because I think had you talked to me before 'Toy Story 2,' I would almost get red in the face and loud and angry and say, 'No, no, I don't want to do any sequels. It's just the loser's way out," he said, adding that the movie was supposed to be a straight-to-DVD project before it failed and the folks at Pixar did a total overhaul of it. "To see the end of that and the satisfaction we internally felt, let alone the outside world, to be with those characters, it made us recognize that there are some stories, there are some characters, there are some subplots that do benefit, if handled correctly, by going longer."
He continued about the decision to make "Toy Story 3," "I can honestly say from an internal place, the drive was never about the cash or that people will come. I'm sure that attracted a lot of people and made them feel at ease, but for us it was like, 'I actually do want to see where these characters are going.' It started to just naturally go into the world of episodic television. Like, there's a season, there's a season of 'Toy Story.' And when my brain went that way, suddenly it opened up this huge thing that if we wanted to go farther, we could easily do it. I think it's the best thing to happen to us, but it's also the biggest curse."
To that end, Stanton said there definitely will be more Pixar sequels. If the story is good enough, he said the studio will make a "Toy Story 4" and "5" and so on. He's even been thinking of finding a way to make a follow-up to "Finding Nemo," though the right idea hasn't struck him yet. (He joked that a bad idea would be "Flushing Nemo.")
The only Pixar sequel in the works right now is "Monsters University," which will act as a prequel to "Monsters Inc." He sounded genuinely excited about getting that project underway.
"There's going to be another 'Monsters,' and we weren't even searching for another 'Monsters,' but suddenly we came up with an idea that just cracked us up and it's totally working. We love it," he said. "It was one of those nice things where we were like, 'We don't want to go to Boo.' That's everybody's private memory, and I don't want to taint that. But we could go before. And once we started talking about it, we really got some awesome stuff up."
It sounds like Stanton is now totally sold on the sequel idea.
"I'm sure you'll see some other sequels of things as they grow because now we are not so blinded," he said. "It's the originals that keep us really going and it's the sequels that are like comfort food, and I think it's the same way for the audience."
Considering the success of "Toy Story 3," we'd have to agree.
What did you think of Stanton's sentiments on Steve Jobs? Do you agree with his outlook on Pixar sequels? Tell us in the comments section below or on Facebook and Twitter.