HCFF: Andrew Stanton on Pixar sequels and Steve Jobs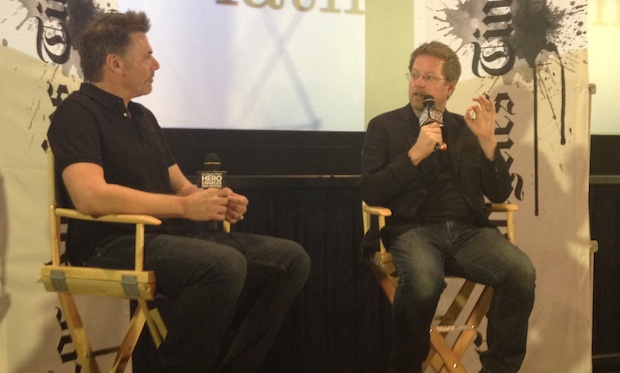 Posted by Terri Schwartz on
Though Pixar is now owned by Disney, it wasn't so long ago that the prestigious computer animation studio was a subsidiary of Apple. Following Sunday's Hero Complex Film Festival screening of "Wall-E," director Andrew Stanton opened up about his experience working with the late Steve Jobs, and the way "Wall-E" was in some ways prescient.
"The iPod had come out on the front end of us working on 'Wall-E' and the iPhone had come out just on the back end, and it was so obvious to us that all this is going to happen," Stanton said. "It's like Aldous Huxley was right, not Orson Welles. We're going to incarcerate ourselves because it's out of pleasure and attraction. It's like, oh I want that toy, I have to have that toy, and we'll just start devolving out of our own free will."
The idea behind "Wall-E's" cruise liner was to think of the one thing that would be "so sexy on a cruise that you wouldn't be able to resist." In the film's case, it was hover chairs, being able to drink out of a cup and having robots do everything for you. Though it's a bit of a stretch from the real world, Stanton found the comparisons the Apple's brand of technology humorous.
But apparently Jobs didn't quite see the connection. Stanton shared a funny story of Jobs' first time seeing "Wall-E" with the audience at the screening.
"When this movie was kind on its legs finally and we could see the whole movie and we could see where it was going, Steve Jobs and Bob Iger were sitting in our screening room and watching it, and Steve goes on and on, 'Yeah, you know, people get seduced, and then they stop doing this and they stop doing that,' and Bob Iger just slowly looks at him and goes, 'Who's fault is that?'" Stanton said with a laugh. "I literally said I am so glad I got to see that."
When asked what it was about Jobs that made him such a great inventor and developer, Stanton credited it to the Apple co-founder's "leader gene."
"It's not about so I can be the most important person in the room, it's just that they have some passion, they have some foresight, they can see something that nobody else can see, and you just start to believe that if we don't see it too, we're all going to lose out," Stanton said.
He continued, "[Jobs] just had that gift of no matter how wide you were thinking, he was thinking way out there. And he had a way of describing it that you just got it, and then everybody would just go, 'Let's go with him.' It was amazing to watch. You felt like a million bucks when you could convince him something."