"Anchorman 2" teaser trailers showcase the original Channel 4 news team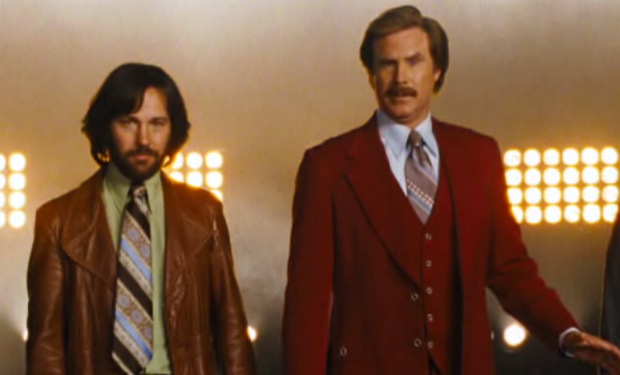 Posted by Terri Schwartz on
He had a voice that could make a wolverine purr and suits so fine they made Sinatra look like a hobo. Ron Burgundy is back, folks, and we've got two teaser trailers for "Anchorman 2" to prove it to you.
If you were concerned that our favorite Channel Four news anchor might have changed over the past eight years, then you fears have been in vain. He, Champ Kind, Brian Fantana and Brick Tamland are all the same lovable newsmen we came to know and love back in 2004's "Anchorman," and that's going to be a major plot point in its upcoming sequel.
"We know these guys never deal well with change, and the good thing is that there's a big blast of change coming, according to the regular timeline," director Adam McKay said in a recent interview. "We're going to be throwing a lot of innovation at them, and they're not going to handle it well."
And the times they are a'changing for the KVWN evening news team. McKay teased that "Anchorman 2" will take place in the late 1970s at the start of the 24-hour news cycle when news stations were forced to start diversifying their news anchors. Considering we're pretty sure Ron still thinks "diversity" is an old wooden ship, that doesn't bode well for him.
Though McKay has come out and said that these trailers are more teasers for the upcoming movie and don't include footage or plot points that will actually appear in it, we do hope that "Anchorman 2" actually does have a witch subplot. Because that will be hilarious. Can this movie get a freaking release date already? We need to start a release countdown a.s.a.p.
Are you as tickled by these two teaser trailers as we are? Tell us in the comments section below or on Facebook and Twitter.