Adapt This: "Order of Tales" by Evan Dahm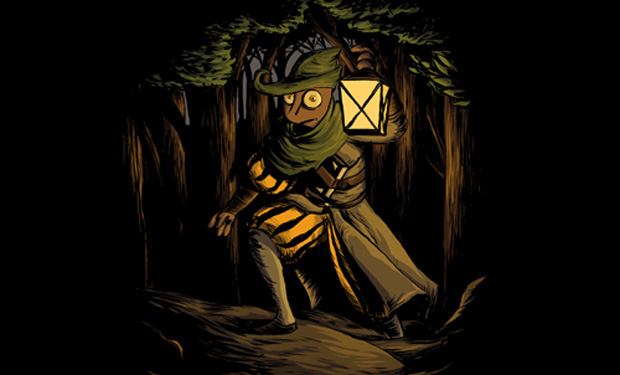 Posted by Rick Marshall on
With Hollywood turning more of its attention to the world of graphic novels for inspiration, I'll cast the spotlight on a new comic book each week that has the potential to pack a theater or keep you glued to your television screens. At the end of some "Adapt This" columns, you'll also find thoughts from various comic creators and other industry experts about the books they'd like to see make the jump from page to screen.
---
This Week's Book: Order of Tales by Evan Dahm (self-published)
The Premise: Teller Koark is the last survivor of an ancient order of story-collectors. Before his father was murdered, he instructed Teller to seek out a mysterious story called "The Account of the Bone Ziggurat," which just might have the power to save the world of Overside from a terrible warlord's conquering army. Teller's adventure leads him from one end of Overside to the other, where he encounters a host of strange creatures, including a girl made of glass, fearsome Blackbird soldiers, and an enigmatic machine-man.
The Pitch: An epic, world-spanning fantasy in the vein of Lord of the Rings, Evan Dahm's Order of Tales manages to balance the vastness of an entirely original world and its history with a very focused narrative that follows Teller and his companions across Overside. We're introduced to the strange and wonderful aspects of the world through Teller's eyes, making the scope of the characters' journey feel large while keeping the story itself more personal — a quality that makes for good storytelling in print or on the screen.
While the collected edition of Order of Tales spans nearly 800 pages, the saga is flexible enough to be compressed into a single film — though something that encompasses multiple chapters, like a movie franchise or television series, is probably best suited for the narrative. And while a live-action treatment is certainly possible, developing Order of Tales as an animated feature would go a long way toward preserving the wonderfully weird elements of the universe Dahm has created.
It's easy to picture an "Order of Tales" animated series as something akin to "Avatar: The Last Airbender" in its structure, with an ending in mind right from the start and a narrative that follows the main character as he makes his winding way toward that final chapter. And just like "The Last Airbender," the combination of well-developed characters and a world full of surprises allows for some thrilling adventures along the way, as Teller gets drawn into one wild encounter after another in his pursuit of the story that could save his world.
However, it's worth noting that the world of Order of Tales is more alien than that of "The Last Airbender," making the animated treatment that much more reasonable for any adaptation of Dahm's saga. A big part of the beauty and appeal of Overside is the bizarre creatures that Teller encounters during his travels, so it would be a shame to subtract anything from that element of the story.
The Closing Argument: A little bit Lord of the Rings, a little bit "Avatar: The Last Airbender," Dahm's Order of Tales is a saga that's nicely suited for development as an animated series that would appeal to both young and older audiences alike. Despite its fantastic setting, the story deals with a number of mature themes while keeping things active and interesting as its characters trek across Overside. As you read Dahm's story, there's a sense that something new and amazing lurks around every turn in Teller's journey, and there's no reason an adaptation can't capture that same feeling on the screen.
---
Would "Order of Tales" make a good movie or animated series? Chime in below or on Facebook or Twitter.