Adapt This: "An Elegy For Amelia Johnson"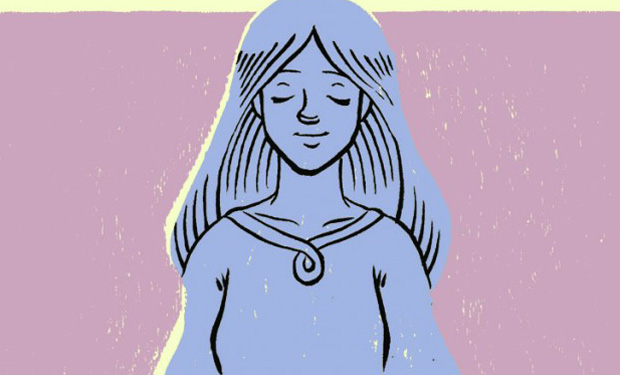 Posted by Rick Marshall on
With Hollywood turning more of its attention to the world of graphic novels for inspiration, I'll cast the spotlight on a new comic book each week that has the potential to pack a theater or keep you glued to your television screens. At the end of some "Adapt This" columns, you'll also find thoughts from various comic creators and other industry experts about the books they'd like to see make the jump from page to screen.
---
This Week's Book: An Elegy For Amelia Johnson by Andrew Rostan, Dave Valeza, and Kate Kasenow (Archaia Entertainment)
The Premise: Two people embark on a cross-country trek as a last request for their dying friend, delivering messages to various people who meant something to her during her life. As the two strangers journey from one destination to the next, they learn more than they ever expected to about their friend, and each other — and begin to suspect the real reasons they're each making the trip.
The Pitch: Equal parts cross-country travelogue and compelling drama about seeing your life through the eyes of others, An Elegy For Amelia Johnson is the sort of awards-friendly story that inspires its audience and wins over critics. In the hands of a capable screenwriter who can bring the story from page to screen, there's a lot of potential for a film that's more than just a tear-jerking farewell to the main characters' cancer-stricken friend — there's a story here about two people who couldn't be more different, thrown together for an unfortunate reason, who learn as much about themselves during the journey as they do about their friend.
A movie based on Amelia Johnson would give a pair of talented lead actors lots of room to explore the full spectrum of emotions, and there's ample opportunity for the supporting cast to shine, too. Of the two main characters, one is a successful filmmaker who brings along his crew to film their cross-country mission, so there's a nice chance to develop those characters a little more than they were in the book.
And despite the serious nature of the story, there's actually quite a bit of flexibility in how a potential adaptation could be played, too. It's easy to envision an Amelia Johnson adaptation with a quirky, Wes Anderson-style approach to their journey, peppering the pathos with humor, or it could just as easily be a straight-up, serious drama about the nature of life and love.
Given the movie-within-a-movie storyline of An Elegy For Amelia Johnson, the option is there to give the film a unique feel by using scenes from the road-trip film being developed by the main character as segues between chapters of the actual movie. In fact, there are many different ways a director could use the movie being created within the movie to set an Amelia Johnson adaptation apart from other films with a similar theme.
The Closing Argument: An Elegy For Amelia Johnson writer Andrew Rostan has done a wonderful job of mixing humor, sobering drama, and an optimistic exploration of life and death in this graphic novel, and the right combination of screenwriter and director should find a strong foundation for a great film here. The plot encourages its characters to change and evolve in a short amount of time, which is one of the key ingredients of a good film — and a good story in a any medium, really. All of that means that it shouldn't be too difficult to bring the story to life on the screen, and with careful attention paid to how it gets there, it wouldn't be surprising to see an adaptation of An Elegy For Amelia Johnson earn a few awards along the way.
---
Would "An Elegy For Amelia Johnson" make a good movie? Chime in below or on Facebook or Twitter.